Buying e-cigarettes and e-liquids for an affordable price in Ireland? Let's have a look if an online vape shop is an answer.
Online vape shop vs. vape store
Anyone who is passionate about vaping, one thing you might have problems with is choosing where to buy from. Primarily, you have two options when you come to the world of vaping: buying online and buying offline. Typically, it's easy to go for the latter as it just feels more convenient. Walk to the local vape store, pick out what you need, and leave. Go home and enjoy your vape. But is it really the best choice for you? Frankly, we have our doubts about that side of things. Let's take a look at why.
Buying offline isn't as reliable as some would assume
For many, the idea of buying offline and going to the local store comes down to simplicity. You don't have to wait for it to arrive in the post, and you can go and pay for it with cash. However, the problem is that, well, they aren't always the most reliable options. Why? Let's look at the present situation in the world. The COVID-19 outbreak has had a vicious impact on our entire society. It's caused a huge breakdown in the kind of normality that so many of us are used to in our daily lives.
More stressing, though, is the impact it's having on the economy. Many stores – such as those who sell vaping products – are being forced to shut down. So, if you cannot actually go to buy from the local store, what use is it? That's why having an online vape shop that you can turn to is very useful indeed. COVID-19 has seen a huge increase in the number of people who are turning to the online industry to get their vape fix. Cheaper prices, fast delivery and more varied selection? It's no wonder it's hard to return to the normality of buying offline outside of emergencies.
But what if I have a problem with my order?
This is a common question that people have about buying from an online vape shop. In the store itself, you can ask the clerk behind the store all kind of questions. What kind of vape juice are they selling? What do they use in the product? What about flavours and design factors? All of the little things you might normally ask about in an offline store. However, you can still ask all of those questions with an online vape shop. In fact, you can do it even easier. Why? Because an online vape shop comes with all kinds of support options. You can give them a call or send them an e-mail. You can even speak to them via live chat apps on social media, through apps like WhatsApp.
It's just like speaking in person, expect it's going to be easier managed as you can do it from your couch! Instead of having to go visit the store in person, your questions can be answered remotely instead. Keep in mind that your local vape store is probably only open from 9 AM until 5 PM. Online shops offer more flexible hours and work around you if you choose to manage your buying online instead. For instance, we are answering customer queries from 10 AM until 1 AM, so getting an answer quickly is not really a problem at all.
Less time spent making a choice
Another factor about going to buy from an online vape shop is the fact you don't have to go and travel. Let's say that you need to go into town to visit your local vape store. This means walking, which is a lot of time or taking the bus/train/car/taxi, which costs you money. Then, you need to find a space to park-up (probably paid), and then you need to go and wait in the store. To be honest, in busy places like Cork or Dublin, logistics or parking could be quite tricky. Add in the fact that you always get a cheaper price when buying online, and you'll have paid far more for the 'convenience'.
With shipping often arriving in a couple of days (sometimes within hours), even during COVID-19, you aren't waiting long at all to get the order that you have invested in if you choose to buy from an online vape store. Basically, all of the little factors that can make an offline shop seem so convenient can be countered. You don't save much time at all, you spend more money on the product itself and on transit, and you'll likely have less stock to choose from. How is that a better deal overall? Speaking of deals…
Online vape shops can offer you a better range of deals
It's not a secret that buying in a vape shop online will cost you a fair bit less per product. And while the initial saving on a one-by-one order might not be huge, buying in bulk soon becomes so much cheaper. You will find that if you buy for example LIQUA e-liquids in a quantity of 10, then you will pay €40-50. However, if you were to choose to buy that same product from an online vape store, then you will pay around €32. This means that you only spend around five minutes making the order, unlike ordering your local store.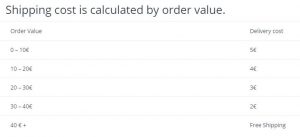 Buying online is much easier, and you'll also find that you just generally get a better deal and a greater selection to choose from. In essence, you'll just find that buying online offers you more opportunity, more variety, and greater value as a consumer. If you want to spend your money wisely as a vaper, then this is absolutely the best way to make sure that you can do so. You'll find that buying online is the easier option of the two. All it takes is a bit of shopping around and a small bit of planning.
Another perk of online vape shopping is that the more you buy, the less it will cost you in shipping. As a matter of fact, most online stores deliver free after a certain value is reached as well. So, be sure to look at the process and consider what your next step is. You might just find that your 'convenience' in buying from a regular vape store has other costs you hadn't thought about!