Accessories, Batteries
Aspire 21700 3800mAh-Battery Cell
Product Points: 14 Points

Aspire 21700 is a rechargeable battery and offers a capacity of 3800 mAh. Perfect for a wide range of powerful MODs. 100%  genuine product from Aspire.
Manufacturer: Aspire
Battery type: 21700, Li-ion INR (Rechargeable)
Battery capacity: 3800 mAh
Dimensions: 70.2mm x 21.4mm
Voltage: 3.7V

The Aspire 21700 battery is used for powering vaping mods and other electrical devices. Aspire 21700 is high drain rechargeable battery and has capacity 3800 mAh. Aspire batteries have been tested extensively and can handle some serious current for extended periods of time.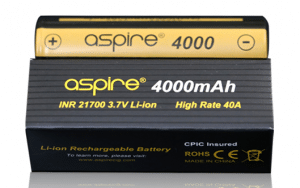 Important:
ⓘ Please be sure to inspect your battery before use to ensure it is not damaged including tears/rips in the battery wrap.
ⓘ Discontinue use immediately if the battery is damaged.
ⓘ Never attach any metal part to the top or the bottom-negative battery contact.
ⓘ Never completely discharge Li-ion battery.
ⓘ Always use good quality and original charger.