Accessories, Tanks
Aspire Atlantis EVO Sub-Ohm Tank

The new version of the popular Atlantis series by Aspire. Atlantis EVO is very compact and small clearomizer, bringing more intense flavour and fantastic vapour production. The Atlantis EVO holds up to 2 ml of e-liquid.
Manufacturer: Aspire
Dimensions: 45 mm x 22 mm
Capacity: 2 ml
Thread: 510
Refilling: from the top
Glass: Atlantis EVO spare glass 2ml or spare glass 4ml
Coil: Aspire Kanthal Clapton coils
Availability:
Out of stock
€20.00

The Aspire Atlantis EVO introduces the Zenith of recent sub-ohm tank evolution. Double wicking efficiency teamed up with lower placed wick points create ultra-efficient e-liquid flow. This optimized design offers high VG e-liquid taste and even faster route to the coil system. EVO breathes without a hitch when you require thick, dense vapour production. Both Standard & Extended EVO kits include 0.4Ω and 0.5Ω sub-ohm coils for an optimized vaping experience.
Dimensions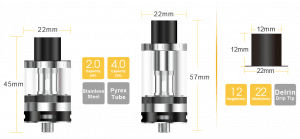 Top refill system
The Atlantis EVO has a quick & clean top-fill tank. Refill your EVO tank in seconds. You can drip, drop or pour your E-liquid into the EVO and be back to vaping in no time.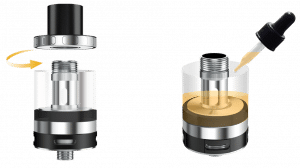 Airflow & Performance
Double wicking efficiency, due to enlarged cotton exposure holes, is teamed with lower positioned wick points. This creates ultra-efficient juice flow and will allow high VG juices an even faster route to the coil system. The included 0.4Ω & 0.5Ω Kanthal Clapton coils are serviced by four spacious and adjustable airflow holes. This keeps the Atlantis EVO breathing when you require thick dense vapour production.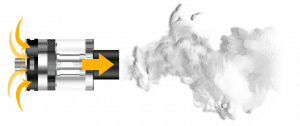 Detailed view
Atlantis EVO Coils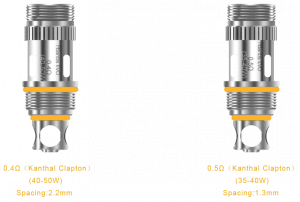 Packing:
1x Atlantis EVO Tank
1x heating head 0,4Ω Clapton (40W-50W)
1x heating head 0,5Ω Clapton (35W-40W)
1x spare glass body
1x silicone cuff
1x User Manual