Accessories, Chargers
Aspire Breeze – Charging Dock
Product Points: 15 Points

This docking station is designed for Aspire Breeze e-cigarette starter kit, which allows for easy recharging on the go. The dock has a built-in 2000mAh battery that also works as a power bank for the Breeze kit.
Manufacturer: Aspire
Dimensions: 79mm x 37mm x 37mm
Capacity: 2000mAh
Output Specs: 5V/1A
Input Specs: 5V/2A
Charging: micro USB port
Colour: Black
Compatibility: Aspire Breeze AIO Kit

The Breeze can be charged from its Micro-USB charging port, maximum charge current can reach up to 800mA. You can also charge the Breeze by using the charging dock for more convenience. This docking station also works as a power bank, which increases its maximum capacity to 2650mAh.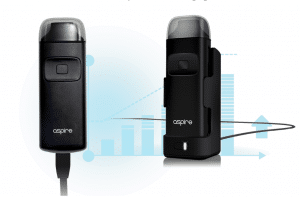 Important:
ⓘ Please be sure to inspect your battery before use to ensure it is not damaged including tears/rips in the battery wrap.
ⓘ Discontinue use immediately if the battery is damaged.
ⓘ Never attach any metal part to the top or the bottom-negative battery contact.
ⓘ Never completely discharge Li-ion battery.
ⓘ Always use good quality and original charger.