Accessories, Tanks
Aspire Cleito 120 Sub-Ohm Tank

Aspire Cleito 120 sub-ohm tank pushes its limits further. The chimney in the tank was removed and replaced with the heating coils, which helps Cleito 120 to manage to ramp up to 120 watts and enjoy smooth airflow, intense flavour, and massive vapour production.
Manufacturer: Aspire
Dimensions: 58 mm x 25 mm
Capacity: 2 ml
Thread: 510
Refilling: Top
Material: Stainless steel
Glass: Pyrex
Coil: Cleito 120 coils
Accessories: Aspire Cleito 120 spare glass 4ml or spare glass 5ml

The Cleito 120 is so ground-breaking it deserves a new class of its own: "Maxi-Watt" Tank. Maxi-Watts is the succeeding level of high-power vaping. Ramp up to 120 watts and experience smooth airflow, bright flavour, and massive vapour production. Cleito 120's innovative new design allows producing a controlled airflow and ultra-efficient wicking with thick VG E-Liquid. Cleito 120's strengths are endless – Become the King of the Jungle today.
Dimensions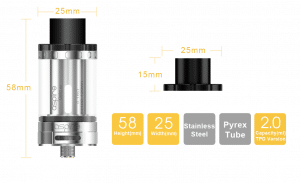 Top refill system
The Cleito 120 has a quick & clean top-fill tank. Refill your Cleito 120 tank in seconds. You can drip or drop your E-liquid into the Cleito 120 and be back to vaping in no time.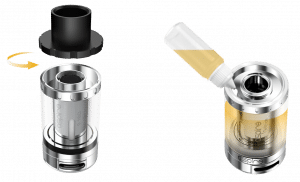 Detailed view & Performance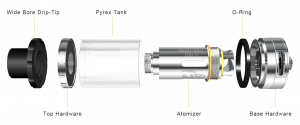 Cleito EXO Airflow
The Cleito 120 features an innovative new airflow system. Unlike other sub-ohm tanks, the vapour production on the Cleito 120 is instant. Inhale for 2 seconds and exhale; There will be huge clouds in the air instantly. Enlarged wicking holes mean the tank breathes without a hitch when chain vaping. The Cleito 120 is ideal for cloud chasers and vapers who enjoy heavy yet smooth hits.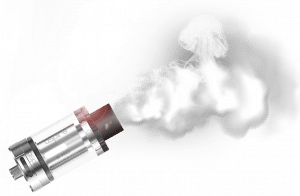 Cleito Coils
While Cleito 120 is rated at 120 watts, it can easily handle 160 watts and higher. Adjust wattage according to your particular E-Liquid's characteristics and your own vaping preferences. The Cleito 120 is for advanced Maxi-Watt vapers who like to vape over 100 watts.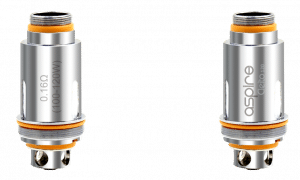 Packing:
1x Aspire Cleito 120 Tank
2x Cleito 120 Atomizer (1 pre-installed)
1x Extra Pyrex Tube
1x rubber band
1x Warranty Card
1x User Manual