Accessories, Tanks
Aspire Nautilus 2S Tank

The legendary Nautilus series by Aspire comes with the new tank. Nautilus 2S has improved, sleek and curvy design and more comfortable way of re-filling. Compare to the previous version of Nautilus, the new Nautilus offers the possibility of tight direct lung hits. The tank is equipped with a 0.4ohm BVC coil for direct to lung vaping, also called DL and a 1.8ohm BVC coil for a mouth to lung vaping (MTL) with a capacity of 2ml of e-liquid. Nautilus has perfectly tight airflow, using well-known BVC coils heads and offers fantastic flavour from your favourite e-juice.


Nautilus 2S MTL Vape Tank
Aspire brings you the all-new, just as curvy, Nautilus 2S. The new Nautilus 2S tank that comes in 2.6ml and a 2ml version for TPD. The latest in the Nautilus 2 tank series, a sleek, curvy design equipped with a 0.4ohm BVC coil for direct to lung vaping and a 1.8ohm BVC coil for a mouth to lung vaping. Top-fill child-resistant design with a silicone self-seal keeps things clean, and as the coils are interchangeable with other Nautilus coils, it allows you to personalize your draw/vapour preference.
Aspire Nautilus 2s Colours

Dimensions and Specifications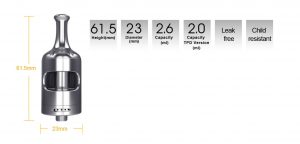 Aspire Nautilus 2s in Detail
The new Aspire Nautilus 2.0 provides two types of drip tips. The pre-installed drip tip is longer and made from stainless steel, which is perfect for a mouth to lung vaping style. The second one is ideal for direct to lung vaping with a frosted shorter 'stubby' drip tip with a slightly wider bore.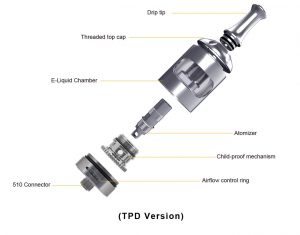 Nautilus BVC Coils
Aspire Nautilus 2S uses the latest BVC coils. Pre-installed 0.4ohm (23w – 28w). A 1.8ohm (9w-13w) coil also included in the pack. Both coils are interchangeable with all Nautilus series coils.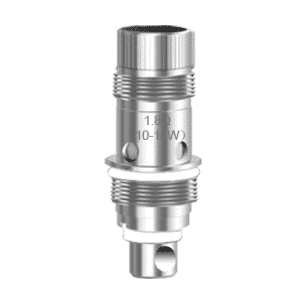 Refilling
Refilling the child-resistant Nautilus 2S tank is simplicity itself and mess-free. Unscrew the top cap anti-clockwise a few turns, Place your thumb on the top cap above the indicator spot and push away from you, this will reveal the filling slot. Push your e-liquid bottle tip down through the filling slot (for TPD version: through the larger of the holes in the self-sealing silicon filling slot). Once filled, slide the top cap back into place and screw the top cap back down. Then unscrew and push action plus the perfect amount of strength resistance to open ensures that this tank will be child-resistant and leak-free.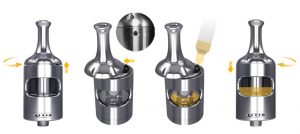 Packing:
1x Nautilus 2S tank
1x heating head BVC 1,8Ω (10W-14W)
1x heating head BVC 0,4Ω (23W-28W)
1x replacement glass body
1x extra drip tip
6x sealing O-ring