Accessories, Aspire, Coils, Coils
Aspire Nautilus AIO NS Coils
Product Points: 2 Points

Nautilus AIO NS (nicotine salt) coils are designed for a variety of Aspire tanks with a resistance of 1.8Ω. An excellent choice for MTL style of vaping and e-liquids with a ratio 50VG/50PG.
ⓘ Drip a few drops of your e-liquid directly on the cotton inside the new heating head and let it soak. This will ensure your coil does not burn out.


Aspire Nautilus AIO Replacement Coils

Aspire Nautilus AIO NS (nicotine salt) are replacement coils designed for a variety of Aspire tanks. The Nautilus coils have long been classed as one of the best coils available on the market, and the new Nautilus AIO NS 1.8 ohm nicotine salt coil is no exception. AIO NS coils have built on the success of the Nautilus coil line and to point out, Nautilus AIO being designed primarily with a growing number of nicotine salt e-liquid users in mind. Nautilus AIO NS coil is highly versatile and fits all tanks that can take Aspire Nautilus coils. For example, Aspire K3, Nautilus mini, Nautilus 2, Nautilus 2s and Nautilus GT.
As the new Nautilus AIO coils are using nichrome wire, you can be sure to get a fantastic flavour, and of course, a guarantee of extended longevity as well. The coil power rating of 10-12W and 1.8Ω resistance makes them an excellent choice for MTL type of vaping. In other words, if you are using 10ml nicotine salt e-liquid with a ratio 50VG/50PG, this could be your ideal replacement coil. However, if nicotine salt e-liquids are not your thing, you can still use AIO coils with standard freebase nicotine e-juices!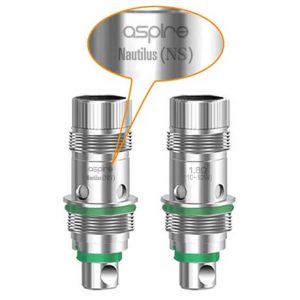 Alternative Aspire Nautilus BVC and Mesh Coils
The latest Nautilus BVC and Mesh coils from Aspire with resistance 0.7Ω(18-23w) BVC coils, 1.6Ω BVC (7-11W) coils, 1.8Ω BVC (10-14W) and the new Nautilus 2S 0.4Ω BVC coil (23-28W) or mesh coils Nautilus 2S with a resistance 0.7Ω (20-25W).  Interchangeable with all Nautilus series tanks perfect for MTL and DL style of vaping. Genuine Aspire products.