E-cigarettes, Starter Kits
Aspire Nautilus AIO Pod System

Aspire Nautilus AIO pod system has a 1000mAh battery and it's a good looking pocket-friendly and user-friendly vaping device. With a compact size and stylish design, it's also comfortable to hold. The pod has 2ml capacity and uses famous Nautilus coils, which provide crisp and tasty vape. As it's extremely easy to operate, it's highly suitable for beginners.



Aspire Nautilus AIO pod system
For all those fans of Aspire's Nautilus range of tanks, Aspire brings you the new Aspire Nautilus AIO pod system. Another new design pod system, small and stylish it comes in 3 popular, satin finish, stylish colours: blue, grey and black. You do not need to worry about what clearomizer to choose, which battery to buy, everything is already in this powerful and compact pod system and works well. The Aspire Nautilus AIO has an easy to fill 2ml replaceable AIO pod capacity for your e-liquid, it fits comfortably in the hand in use and is very discreet. A volume of your e-liquid inside the e-cigarette is superbly seen thanks to designed built-in tank.
It utilizes Aspire's famous Nautilus BVC coils rated at 1.8 ohms and comes with a regular coil and a second one for use with nicotine salts. However, Nautilus AIO is compatible with all Nautilus coils. Also, the 1000mAh battery is more than enough. Moreover, it's easy to charge with a micro USB port and because of illuminated light and various colours, you will be continuously informed about the remaining battery capacity.
Aspire Nautilus AIO Dimensions
The sleek, ergonomic, palm-sized design fits well into pocket or purse.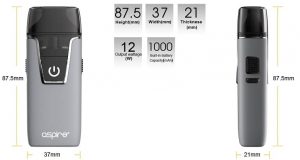 Nautilus AIO Exploded View
Very simple in the number of parts ensures that there is little to go wrong with the Aspire Nautilus AIO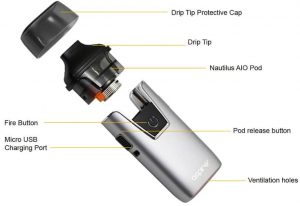 Airflow
In keeping with Aspire's vision of letting people choose their vaping preference, the Aspire Nautilus AIO has an adjustable airflow system to suit your vaping preference.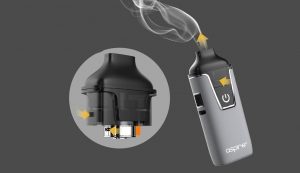 Nautilus Coils

The Aspire Nautilus AIO atomizer uses the famous and popular Nautilus BVC coils (0.7ohm Nautilus BVC Coil is not compatible with the Nautilus AIO), it also uses nichrome wire. Nautilus AIO comes supplied with two coils both rated at 1.8 ohms, one for regular e-liquid and one for use with nicotine salts called Nautilus AIO NS coil, though it works equally well with normal e-liquid.

Coil Installation
Simply remove the pod by squeezing the side buttons on the device, then remove the pod and turn it upside down, push down the airflow control ring and unscrew to disengage the airflow component, detach the coil from the airflow control ring and replace it with a new one. Relocate the airflow component with attached coil back to the pod, and push the pod back into the Nautilus AIO until it clicks.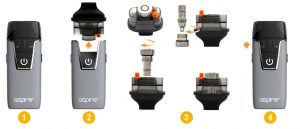 Re-Filling
To fill it up, pull out the mouthpiece, pull out the orange plug, and pour your e-liquid into the Nautilus AIO through a large hole. That's it!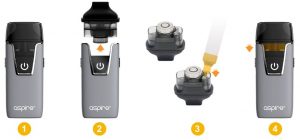 Charging
Simple and fast charging of an integrated 1000mAh battery via micro USB port. When attached to the USB with the power on the LEDs will flash blue and orange three times, when fully charges the LEDs will flash blue and orange twenty times then remain off.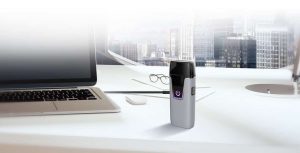 Packing:
1x Nautilus AIO device
2x 1.8Ω coils (1 regular BVC & 1 for Nic Salt)
2x Extra O rings
1x Micro USB Cable
1x Warranty Card
1x User Manual