Advanced, E-cigarettes, Starter Kits
Aspire Nautilus GT Kit

Aspire brings another great MTL vape kit. Aspire Nautilus GT kit is a brand new vaping kit consisting of the new Glint mod and Nautilus GT tank. The glint mod is powered by single 18650 battery and has adjustable power up to 75W. Your 18650 battery can be charged via USB-C charging port and the maximum charging current can reach up to 2A. The Nautilus GT tank is a product of collaboration between makers of legendary Taifun RTA tank by SmokerStore and Aspire. The vape tank was designed in Germany with a unique airflow system on the bottom, popular BVC coils and also equipped with a smooth top filling system with two large filling holes.
| | |
| --- | --- |
| Manufacturer | Aspire |
| Dimensions | 129.50 x 45 x 25mm |
| Battery | 18650 – at least 20A (not included) |
| Output wattage | 1 – 75W |
| Supported modes | VW |
| Tank | Aspire Nautilus GT – 3ml (2ml TPD) |
| Extension Glass | 4.2ml PSU Tube |
| Thread | 510 and spring-loaded contact |
| Charging | Micro USB-C port (5V/2A) |
| Coils | Aspire Nautilus BVC Coils |


Aspire Nautilus GT Kit
Aspire Nautilus is the legend in the world of vaping and Aspire now brings an entirely new kit. The Aspire Nautilus GT kit is a brand new vaping kit consisting of Glint mod and the Nautilus GT tank. Not to mention Nautilus GT tank is a product of collaboration between top-class SmokerStore atomizer manufacturer (makers of legendary Taifun RTA tank) and Aspire. Aspire produces the tank, but its unique design comes from Germany.
Glint Mod
Glint mod is sleek and hand-friendly mod. To bring the Glint mod to life, you will need a single 18650 battery. Fire button, control buttons, with adjustable power up to 75W and a bright 0.96-inch display is all you need for quick and easy setup. The Glint mod brings not only simple controls for a flawless and reliable experience but also ASP chipset known for its safety features. With this in mind, using Aspire kit makes vaping safe. The battery door has a unique flip-out design, making swapping battery super fast and without complications. The hinge design is set to remain durable over time; it perfectly fits in your hand but still keeps its beautiful design. Moreover, this mod also features a USB-C 2A plug, which means faster charging than previous USB ports.
Nautilus GT Tank
The GT tank is quickly becoming the most popular and best mouth to lung tank with replaceable Nautilus coil heads. The GT MTL vape tank is compatible with all coils fitting Nautilus tanks, and it is also compatible with Triton Mini coils, hence offering an extensive range of possibilities to its user. As a matter of fact, the package includes Nautilus 2S 0.7 2 mesh coil head and a 1.6Ω BVC coils. Tank GT has uniquely designed adjustable airflow ring on the bottom base with five precision setting airflow holes. However, the airflow can also be completely shut off. And with nautilus heads, you are guaranteed great flavour!
GT tank features a convenient and secure top filling system. Slightly unscrew the top cap and then pull it out to expose two large filling ports. The GT vape tank has a capacity of 3ml (2ml TPD) for your e-juice, but you can get an extension glass. The PSU extension glass will not only give your GT tank a fantastic look but also will increase the capacity to massive 4.2ml. This is more than enough for MTL vape tank but also enough for DL vaping style.
If you are looking for a new kit that is sleek, ergonomic, reliable and will guarantee you an unbeatable flavour, is easy to use, has a top fill design and is versatile for both DL and MTL vaping, look no further. The new Aspire Nautilus GT is a piece of vape kit that is not going to disappoint!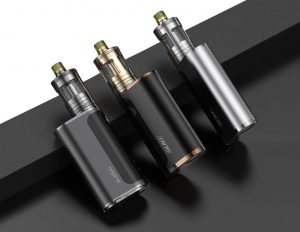 Nautilus GT Kit Dimensions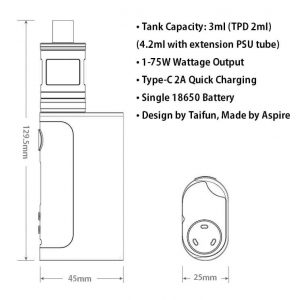 Nautilus GT kit in detail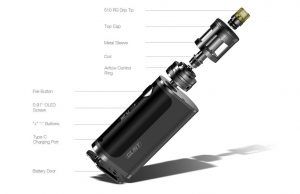 Wattage and buttons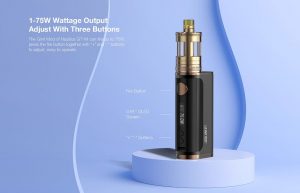 Super Convenient 18650 Battery Door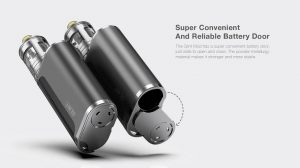 Super-fast Charging USB type C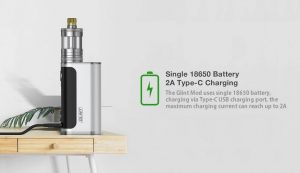 Nautilus GT Tank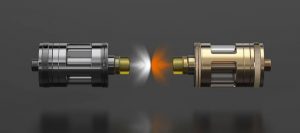 Nautilus GT Airflow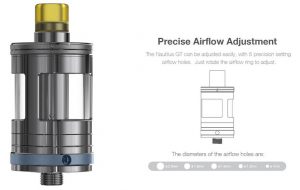 Protected Glass Tube
Extension PSU Glass Tube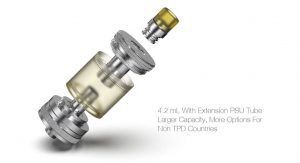 Top Filling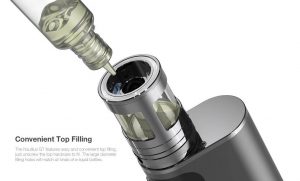 Replacement Coils for Nautilus GT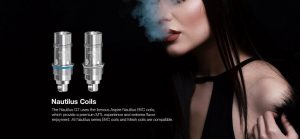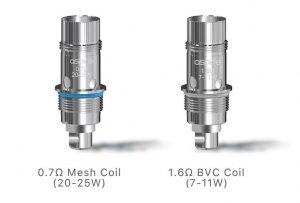 Packing:
1x Glint Mod (18650 Battery not included)
1x Nautilus GT Tank
1x Nautilus BVC Coil 1.6Ω
1x Nautilus 2S Mesh Coil 0.7Ω (Pre-installed)
1x USB-C cable
10x Set of O-rings
1x Warranty card
1x User manual