120ml, Brands, By Brand, By Size, Cuttwood, Cuttwood, E-liquids, Sweet
Cuttwood Tobacco Trail 120ml Vape Juice
Product Points: 19 Points
Cuttwood Tobacco Trail 120ml e-liquid is mild and sweet tobacco flavoured vape juice with a splash of honey.
| | |
| --- | --- |
| Manufacturer | Cuttwood |
| Flavour | Tobacco, Honey |
| VG/PG Ratio | 70/30 |
| Nicotine strength | 0 mg |
| Bottle size | 120ml (100ml of e-liquid) |

Cuttwood Tobacco Trail 120ml E-Liquid
Cuttwood Tobacco Trail e-liquid is mild and sweet tobacco flavoured vape juice with a splash of honey. Tobacco Trail delivers a tobacco flavour that you will never want to put down. This e-liquid comes in a 120ml Chubby Gorilla Bottle with 100ml e-liquid leaving enough space for two 10ml nicotine shots. Tobacco Trail e-liquid contains 70% of vegetable glycerin. A higher ratio of VG guarantees the production of massive clouds and smoother hits. It is a perfect base for sub-ohm tanks and direct lung vaping (DL).
About Cuttwood
Cuttwood is an industry-leading premium e-liquid company headquartered in Irvine, California, and the creator of 10 widely recognized flavours, including industry icons: Unicorn Milk and Boss Reserve. The brand came to be in 2016, just as the industry began to kick off. Cuttwood's e-liquids are available to its loyal and global consumer fan base worldwide, crafted and bottled in California in an ISO 7 Certified cleanroom housed within facility conformance with ISO 9001:2015 manufacturer operating standards.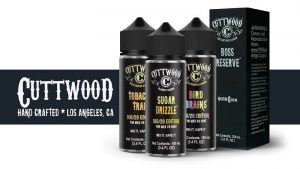 How to use Tobacco Trail
e-liquid with 0mg nicotine strength?
STEP 1


Open the Cuttwood bottle,
Press the cap down &
unscrew completely.
STEP 2
Pour nicotine booster
to the level of your
preferred strength.
STEP 3


Shake for 1 minute


Wait for 5 minutes
before using. Enjoy!