60ml, Bases & Flavors, Donuts, E-liquids, Fruit, Shake&Vape, Shortfill, Sweet
Donuts – Strawberry 50ml Shortfill
Product Points: 18 Points

Strawberry Donut by Donuts e-juice is 50ml Shortfill that has become a sensation in the e-juice world. Freshly fried donut flavor with a strawberry jam filling and fresh strawberry bits all dunked in a glass of milk. Ultimate breakfast vaping experience. An excellent e-juice flavor that makes you instantly fall in love.
Donuts E-juice contains 70% of vegetable glycerin. A higher ratio VG guarantees production of massive clouds and smoother hits. It is a perfect base for cloud chasing and direct lung vaping (DL).
Manufacturer: Marina Vape
Brand Name: Donuts
Flavour: Strawberry, Doughnuts, Milk
VG/PG Ratio: 70/30
Nicotine strength: 0 mg
Bottle size: 60ml (50ml of e-liquid)
ⓘ Just add nicotine booster to get your desired strength.

ABOUT MARINA VAPES
Marina Vape manufactures first-class vape flavours, e-liquids, and shortfills. They make their e-juices in Southern California since 2013, and Marina Vape currently owns, manufactures, and distributes over 20 premium e-liquid brands such as Alpha Vape, Doughnuts E-Juice, Treats E-Juice or Crème De La Crème just to mention a few. The market demands the premium quality e-liquid, and their Donuts series is an excellent example of a high-quality e-juice.
Each step of production is carefully controlled in a laboratory with a focus on the best quality of raw materials used. Due to their high standards, Marina Vape meets all regulations and certifications. The result of their job is a unique flavour and themed series e-liquids with distinctive and unforgettable characters.
Donuts – Strawberry 50ml Shake N' Vape e-liquid
A sweet and soft 50ml shortfill e-liquid blend of freshly ripened strawberries, and the creamiest fresh milk that gives you the ultimate breakfast-ready vape experience.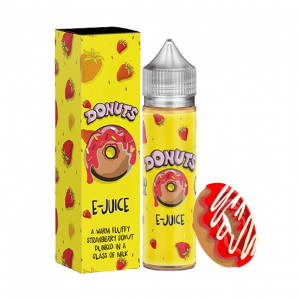 How to use shortfill e-liquids?
STEP 1


Open the bottle
Press the cap down &
unscrew completely.
STEP 2
Pour nicotine booster
to the level of your
preferred strength.
STEP 3

Shake for 1 minute


Wait for 5 minutes before using.
For the best results wait
24 hours before use.
Enjoy the experience!
How much nicotine should you add?