E-cigarettes, Starter Kits
Innokin JEM Pen Starter Kit

Innokin JEM Pen AIO is a compact yet powerful pen style vaping device, which will appeal to everyone! It's slim and beautiful, it has 1000mAh battery capacity and also the LED indicator, which shows the current battery charge level. As it uses Jem coils, you can be sure of unbeatable flavour. As well as a flavourful vape, Jem is full of safety features. Overall JEM Pen is a perfect e-cigarette for beginners with a fantastic price tag.
| | |
| --- | --- |
| Manufacturer | Innokin |
| Battery | 1000mAh Built-in |
| Dimensions | 129.5 x 16 mm |
| Tank Size | 2ml |
| Wattage | 13W |
| Charging | Micro USB |
| Coils | Innokin JEM |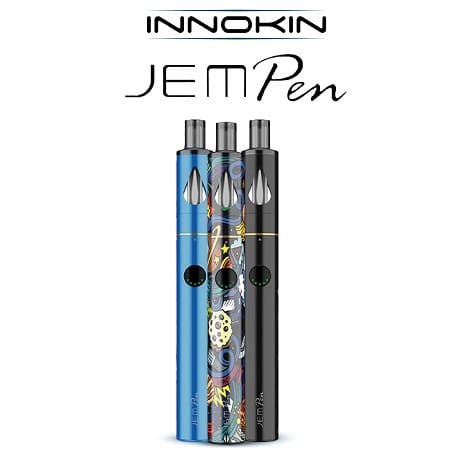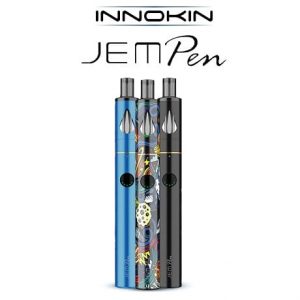 Innokin JEM Pen
The vaping trend is still in full swing, and quite frankly, with more and more companies wanting to get in on it, it's hard to find the right products. The Innokin JEM Pen promises to be the exception to the rule. Gone are the days of carrying around a bulky looking pen that didn't fit well in your pocket. At almost 13 centimetres and about 16mm in diameter, this pen's slick design makes it perfect for your everyday use.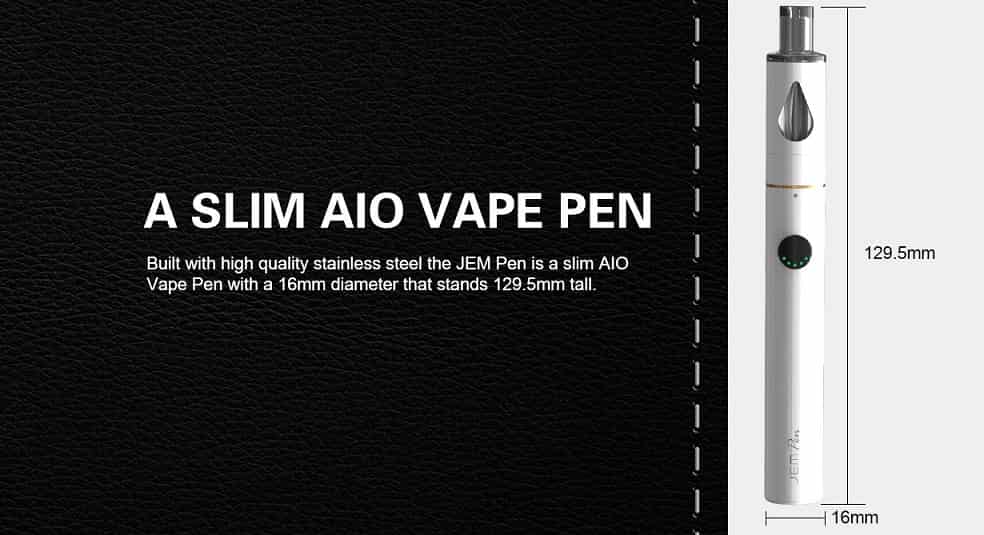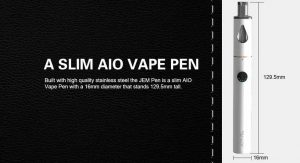 It's not only the size that matters here, though. One of the most significant upsides to the Innokin JEM Pen is the fact that it has a long-lasting battery with capacity 1000mAh. You're mostly going to be able to vape all day without having to recharge. Your cell phone battery is more likely to die out than your JEM Pen battery. Plus, it's a pen that you are going to be able to refill and operate without worrying about it breaking in your hands!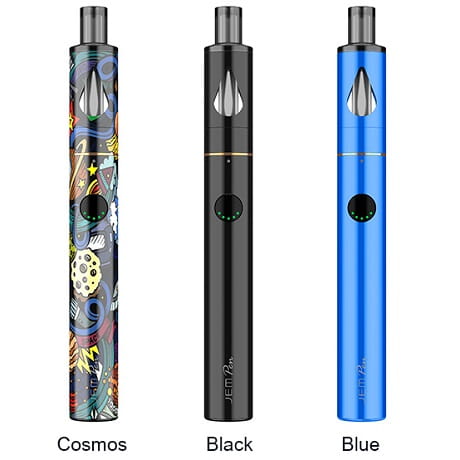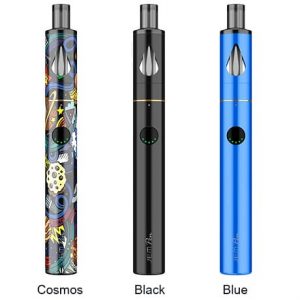 Dimensions and Design
As mentioned, the JEM Pen has a perfect pocket fit size that's also not going to feel bulky in your fingers while your vaping. If you are looking for a pen with an elegant design, you are not going to have to be looking any further. The Innokin JEM Pen comes in three different colours: black, blue, and cosmos. To be honest, there is no wrong colour as they all look stunning.

Simple Refilling
Some vape pens seem to work great until you try and refill them, and everything starts falling apart. With the JEM Pen, all you have to do is twist the top, remove it, fill it up, and twist it back on. You are going to be able to see the level of e-liquid at all times as its tank has two large windows on each side. In other words, you can complete the process in a couple of seconds. The JEM tank has a capacity 2ml for your e-liquid, which is more than enough for MTL e-cigarette.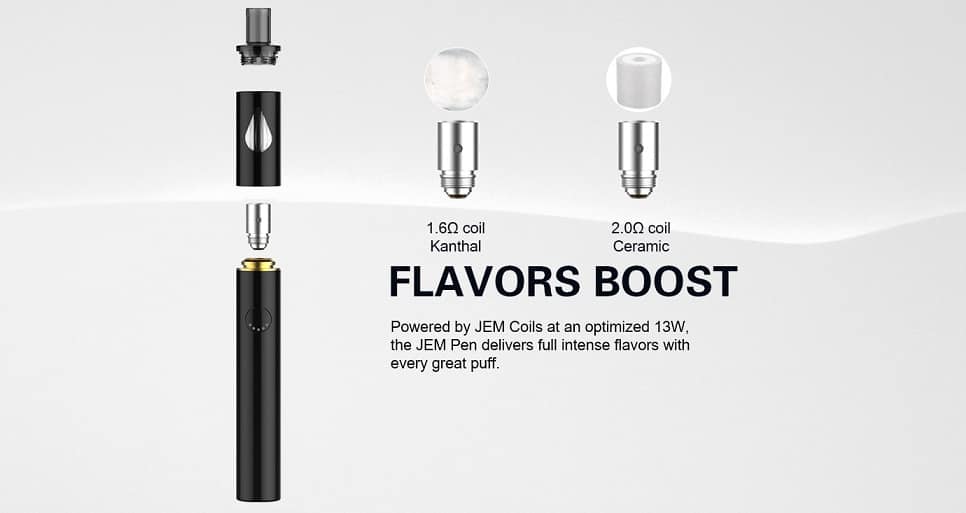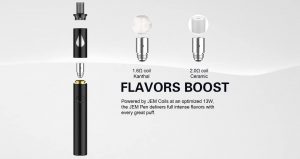 Replacement Coils  
The Innokin JEM coils are well known and accessible, and they are not going to wear out as quickly. This is because you don't have to take the pen apart from all that often. If you need replacements, though, you can find those with relative ease at reasonable prices! Expect nothing else but intense and authentic flavours.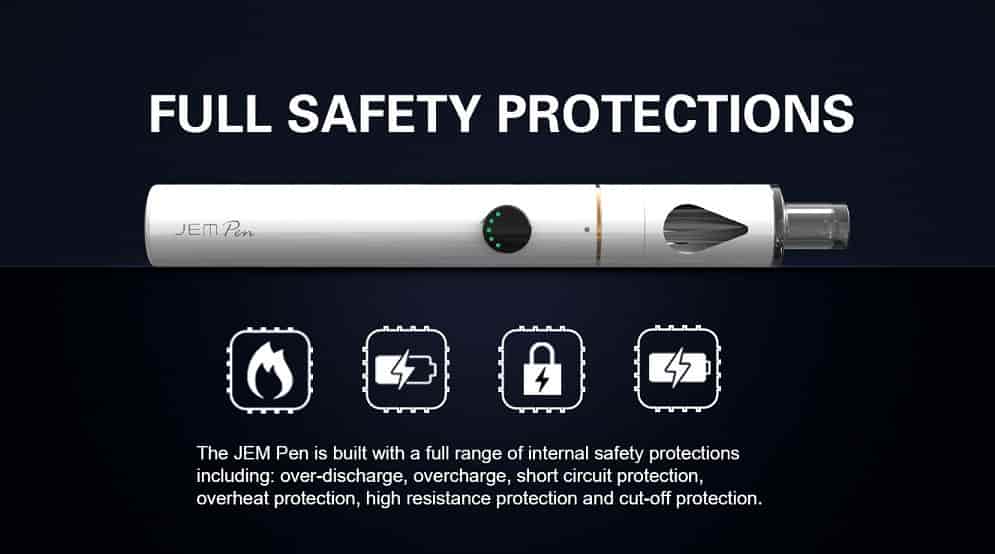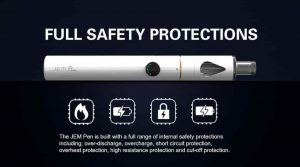 Safety Protections, Battery Size and Simple to Use Vapour Pen
You are not going to have to worry about your JEM pen burning out thanks to a faulty charger or even having it overheat. Why? Because JEM Pen starter kit comes with safety futures such as over-discharge, overcharge, short circuit protection, overheat protection, high resistance protection and cut-off protection. This means that you can leave it charging through the night without any trouble. The battery capacity is 1000mAH and will last all day! There is nothing that you have to worry about, just push a button and vape! By the way, the tri-colour LED light under the button shows the current battery charge level.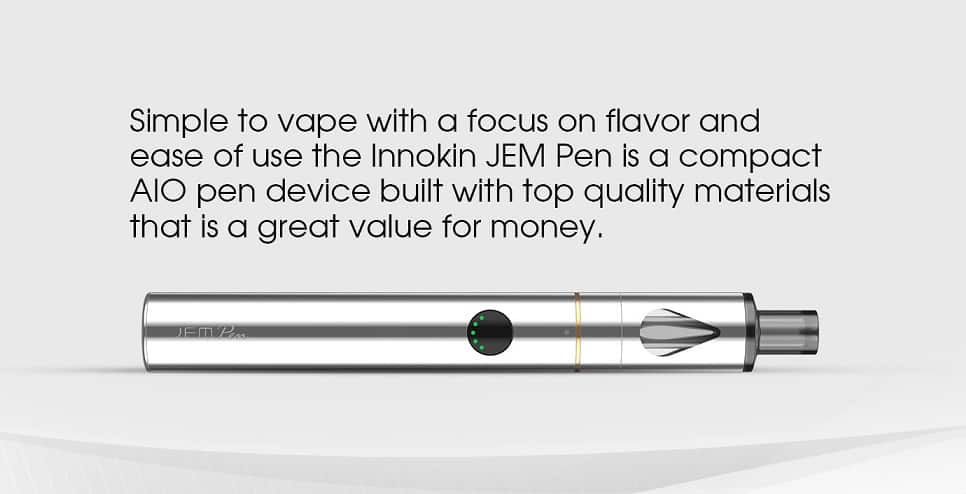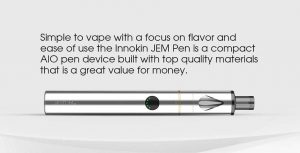 Is The Innokin JEM Pen The Right Vape Pen For You?
Do you like vape pens with a slick design that can easily fit in your pocket with a battery that lasts the whole day? If so, then Innokin JEM Pen is the vape pen for you. One of the main concerns that people have with vape pens is durability. This is a non-issue with the Innokin JEM Pen. One button operation, LED battery indicator and superb flavours. What else do you need from a starter kit? This pen is an excellent bang for your buck deal!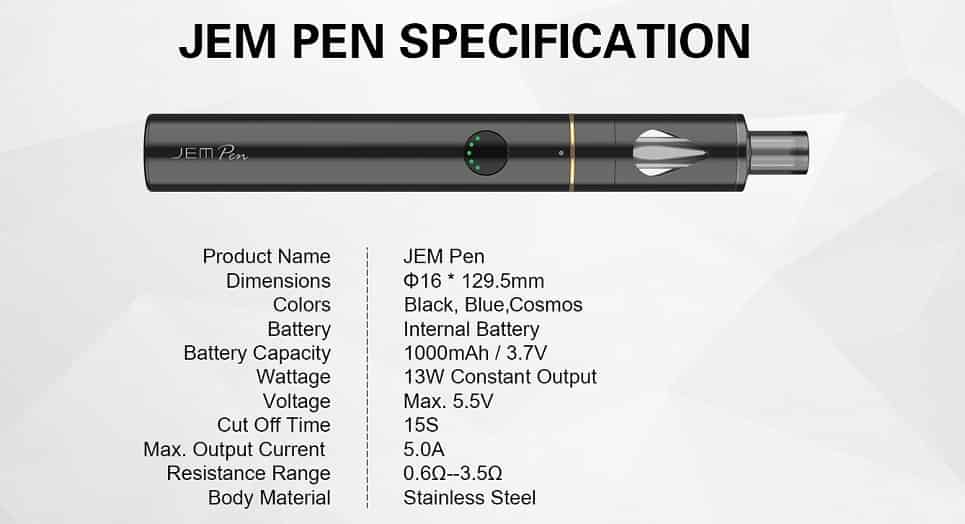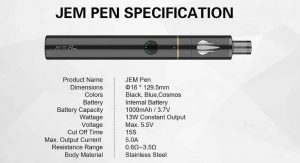 Packing:
JEM Pen Kit (1000mAh)
1x Ceramic Coil 2.0Ω
1x Kal Coil 1.6Ω
Micro USB Cable
1x Spare O-ring Set
1x Quick Start Guide