Accessories, Batteries, Molicel
Molicel P26A 18650 Battery 2600mAh
Product Points: 9 Points

Molicel P26A 18650 batteries with a flat top and capacity 2600mAh, perfect for a wide range of e-cigarettes. This INR 18650 P26A cell is the fantastic original manufacturer of a positive cell being used by iJoy and Efest
| | |
| --- | --- |
| Manufacturer | Molicel |
| Battery Type | 18650 |
| Battery capacity | 2600mAh (0.2C discharge) |
| Dimensions | 65 mm x 18 mm |
| Nominal Voltage | 3.7V |
| Discharge | 25A |
| Type | Flat top |

18650 Battery Molicel P26A
Molicel P26A 18650 batteries with a flat top and capacity 2600mAh, perfect for a wide range of e-cigarettes. This INR 18650 P26A cell is the fantastic original manufacturer of a positive cell being used by iJoy and Efest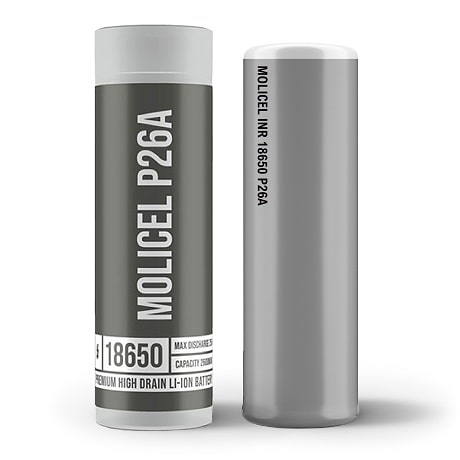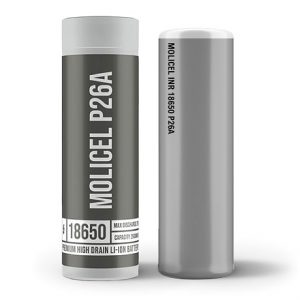 Specification:
Brand: Molicel
Model: INR 18650 P26A
Size: 18650
Chemistry: INR
Nominal Capacity: 2600mAh
Nominal Voltage: 3.7V
Discharge: 25A
Positive: Flat
Protected: NO, UNPROTECTED
Rechargeable: Yes
Dimensions: 18mm x 65mm
Weight: 47.8g
Important:
ⓘ Please be sure to inspect your 18650 battery before use to ensure it is not damaged including tears/rips in the battery wrap.
ⓘ Discontinue use immediately if the battery is damaged.
ⓘ Never attach any metal part to the top or the bottom-negative 18650 battery contact.
ⓘ Never completely discharge Li-ion battery.
ⓘ Always use good quality and original charger.