60ml, Bases & Flavors, E-liquids, Fruit, Pacha Mama, Shake&Vape, Shortfill
Pacha Mama – Huckleberry Pear Acai – E-liquid
Product Points: 15 Points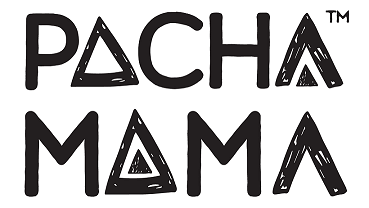 Pacha Mama Huckleberry Pear Acai e-liquid brings you a very unique flavour of wild huckleberry mixed with exotic acai and fresh pear undertone for extra bite.  If you love bitter-sweet flavour type of vape,  this e-liquid is made for you.
| | |
| --- | --- |
| Manufacturer | Charlie's Chalk Dust |
| Flavour | Huckleberry, Pear, Acai |
| VG/PG Ratio | 70/30 |
| Nicotine strength | 0 mg |
| Bottle size | 60ml (50ml of e-liquid) |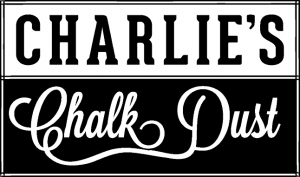 Pacha Mama e-liquids are made by a company called Charlies Chalk Dust, which was found by two brothers Brandon and Ryan Stump. Charlies Chalk Dust is known for its mastery of fruity layered e-juices and is regarded as one of the key players in the vape industry.  They have developed a large scale of brands, styles and unique e-liquid flavours. Charlies Chalk Dust bears the mark of highest quality vape produce and is available in over 90 countries around the world.
The popularity of Charlies Chalk Dust e-liquids is on the constant rise due to its bold innovations, originality and quality it offers. Its brand has a large following and also a massive scale of loyal customers.
Pacha Mama – Huckleberry Pear Acai 50ml E-liquid
Mountain huckleberries, lush pear and legendary Amazonian acai berries combine for this succulent treasure.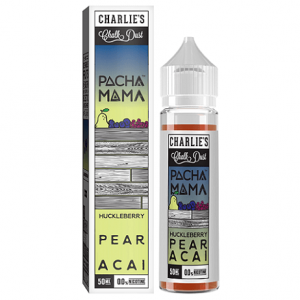 Pacha Mama e-juices are higher VG. It contains 70% of vegetable glycerine, which means it produces higher vapour production and provides a smoother vape. As such, it is ideal for cloud chasing and direct lung style of vaping.
Huckleberry Pear Acai e-liquid is presented in a 60ml shortfill Chubby Gorilla bottle with 50ml of e juice. There is just enough space to fit 10ml of nicotine shot if you need to, making it a total of 60ml e-liquid volume with 3mg nicotine strength. Nicotine shot included with each 60ml e-liquid bottle.
How to use shortfill e-liquids?
STEP 1


Open the bottle
Press the cap down &
unscrew completely.
STEP 2
Pour nicotine booster
to the level of your
preferred strength.
STEP 3

Shake for 1 minute and


wait for 5 minutes before using.
For the best results wait
24 hours before use.
Enjoy the experience!