60ml, Bases & Flavors, E-liquids, KonceptXIX, Shake&Vape, Shortfill, Sweet
Phat Drizzle – KonceptXIX
Product Points: 15 Points

Phat Drizzle by KonceptXIX is an irresistible delicacy for true dessert flavor lovers. A real treat of excellent warm creamy vanilla sponge with delicious vanilla filling and sweet caramel topping drizzled all over the cake. The distinctive caramel flavor with sponge cake tones gives the vanilla a completely unrepeatable taste. It's a perfect recipe as you would expect from a Vampire Vape which only real gourmets with a sweet tooth will understand. Koncept XIX is made by Vampire Vape in the UK.
KonceptXIX contains 80% of vegetable glycerin. A higher ratio VG guarantees production of massive clouds and smoother hits. It is a perfect base for cloud chasing and direct lung vaping (DL).
Manufacturer: Vampire Vape
Brand Name: KonceptXIX
Flavour: Phat Drizzle – Sponge cake, Vanilla, Caramel
PG/VG Ratio: 20/80
Nicotine strength: 0 mg
Bottle size: 60ml (50ml of e-liquid)
ⓘ Just add nicotine booster to get your desired strength.

ABOUT VAMPIRE VAPE
Koncept XIX is made by Vampire Vape, which was established in the UK in 2012. At the beginning, they had only 12 e-liquid flavours, and they regularly trial & release new flavours which have seen their standard range grow to 54 flavour options. Right now, Vampire Vape is one of the biggest UK manufacturer and most recognized brand with DIY e-liquids, flavours, and shake&vape e-juices. Vampire Vape offers a variety of classic, but also unique flavours, such us Heisenberg or Pinkman, that you should give it a try. All Vampire Vape flavours and e-liquids are made from the highest quality raw materials to ensure the required final quality of the flavours are excellent.
Phat Drizzle – KonceptXIX 50ml Shake N' Vape e-liquid
Get absolutely baked with this warm creamy vanilla sponge cake that has been drizzled in deliciously sweet caramel. Perfect for anyone with a sweet tooth.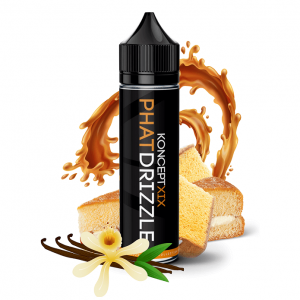 How to use shortfill e-liquids?
STEP 1


Open the bottle
Press the cap down &
unscrew completely.
STEP 2
Pour nicotine booster
to the level of your
preferred strength.
STEP 3

Shake for 1 minute


Wait for 5 minutes before using.
For the best results wait
24 hours before use.
Enjoy the experience!
How much nicotine should you add?