Advanced, E-cigarettes
Smok Resa Stick Kit 2000mAh
Product Points: 1 Points

Smok Resa Stick is a simple, reliable and especially powerful e-cigarette in perfectly designed pen style kit with a built-in battery with a capacity of 2000mAh. Battery works on the principle of a direct output voltage, and Resa battery doesn't require any settings. Everything works as it should. Resa Stick comes as a kit with Resa Baby 7.5ml tank and perfectly matches its "Cobra" colour design with the battery. The vape kit is designed for direct lung vaping thanks to the low resistance coils.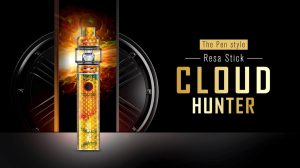 Smok Resa Stick Kit 2000mAh E-cigarette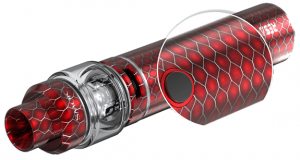 E-cigarette Resa Stick, a newly designed pen style kit with a built-in battery capacity of 2000mAh, whether from its usage or appearance or tactility, can provide you with superior user experiences. The whole body of cobra resin design fully displays the beauty of the wild, filled with vitality and strength. Resa Stick adopts a fire-new tank–Resa Baby, which is equipped with powerful V8 Baby cores and can bring you massive vapour and authentic flavour. The tank has a super large capacity of 7.5ml for your e-juice with bubble glass. Resa Stick, the mighty cloud hunter, is ready to capture your heart with its wildness –are you ready? Innovation keeps changing the vaping experience!
Dimensions and Specifications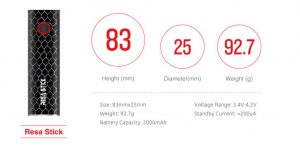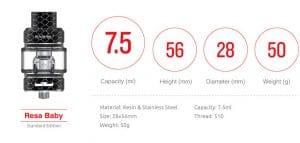 Smok Resa in Detail
Resa Stick Kit adopts built-in 2000mAh battery which is powerful and durable; what's more, it brings you a massive cloud of vapour.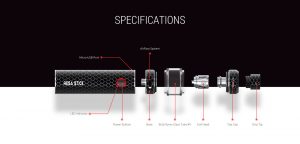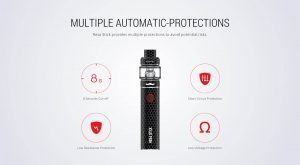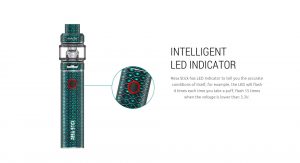 Resa Baby Tank
ADJUSTABLE AIRFLOW SYSTEM Bring you an extremely open draw. Airflow can be adjusted freely by turning the ring at the base of the atomizer.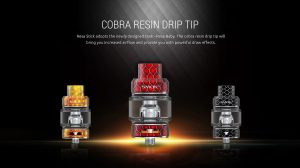 V8 Baby Coils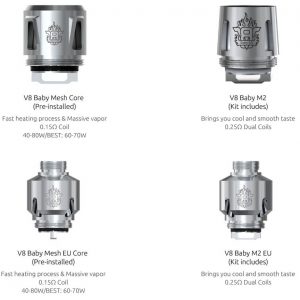 Refilling

Packing:
1x Resa Stick Battery 2000mAh
1x Resa Baby Tank
1x heating head V8 Baby-Mesh 0,15Ω
1x heating head V8 Baby-M2 0,25Ω
1x micro USB cable
1x silicone band
Spare parts