Brands, By Brand, By Type, E-cigarettes, Pod System, Starter Kit, Starter Kits, Uwell, Uwell
Uwell Caliburn X Pod System

Uwell Caliburn X pod system is a next-generation success in this popular pod series. As with its predecessors, you will get a small, lightweight pod system made from durable aluminium alloy. However, you can now choose between auto-draw or button operation and an easy-to-read display showing information about your device's current status. A large 850mAh internal battery will see you comfortably through a day of vaping, whilst charging your device is made super fast via a USB-C port. If convenient, small, yet powerful is what you are after, this is the kit for you.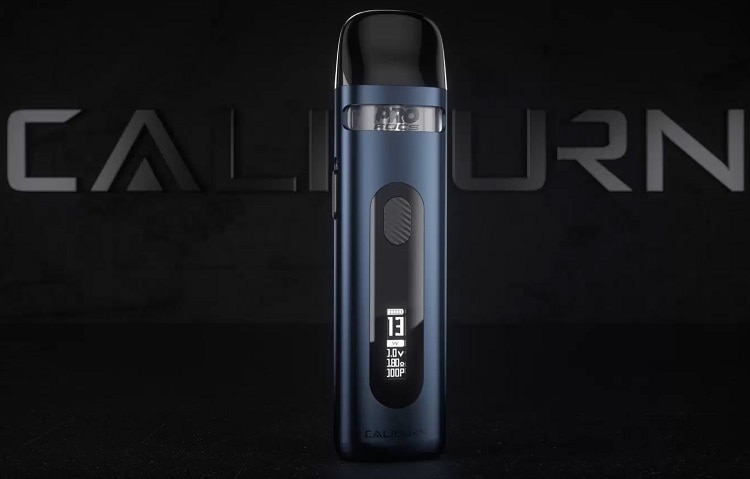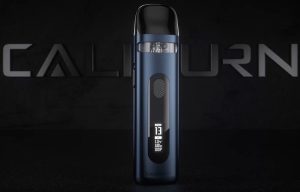 Caliburn X Pod System by UWELL
The Caliburn X pod system is a compact and powerful vaping device that offers an exceptional experience, designed by Uwell, a reputable name in the vaping industry. Like the previous Caliburn models, it is a lightweight, easy-to-use pen-designed vape kit, making it an excellent starting vaping device. It also satisfies more advanced users. Caliburn X is a light and durable aluminium alloy, measures 107.4 x 27.5 x 15.6mm, and has a working power range of 5 – 20W. At the heart of the Caliburn X is its advanced chipset, which delivers a consistent and reliable performance. The single button takes care of turning on and off functions and adjusting the power on your battery. However, you can choose between auto draw and button activation for your convenience. As well as that, you now have an easy-to-read OLED display containing the current status of your vape. It has a built-in battery with a capacity of 850mAh and supports fast charging via a USB-C charging port, allowing you to quickly recharge and get back to vaping in no time. The battery life indicator conveniently displays the remaining battery level, ensuring you never run out of power unexpectedly.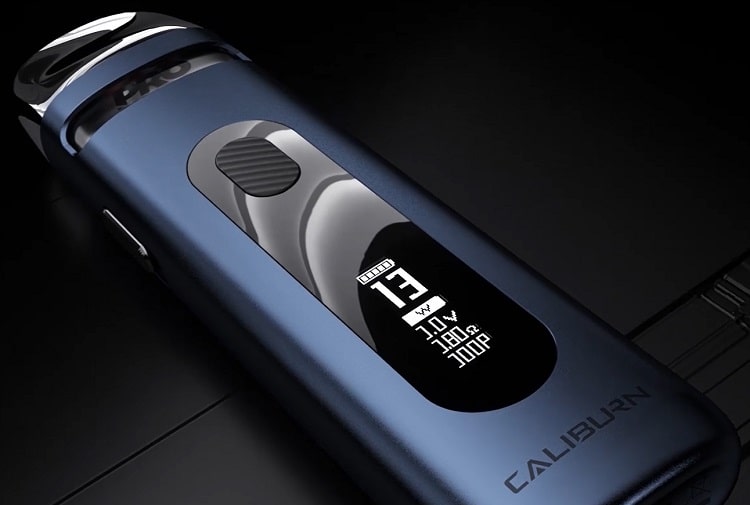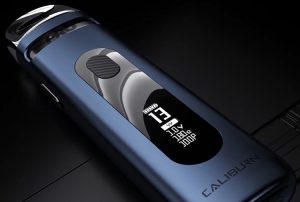 The kit comes with an empty 2ml (you can also get a larger pod with a 3ml e-liquid capacity) Caliburn X pod, which is compatible with Caliburn G and G2 coils. Two G coils are included to get you started – a 0.8Ω meshed coil and a 1.2Ω G2 coil. The pods are easily refillable through a convenient top-fill system, reducing the chances of leakage or mess. The pods are also transparent, allowing you to monitor your e-liquid levels and avoid unpleasant dry hits easily. Known for its durability and phenomenal flavour, you will be gifted with crisp flavours hiding within your favourite e-liquid. To further personalise your vape style, the airflow adjustment valve restricts or allows more air intake to hit your coil. Caliburn X comes in different colours to choose from and is intended for MTL users as well as higher PG e-liquids. No fuss, just an outstanding vaping experience with pocket-fitting X factor! Overall, the Uwell Caliburn X pod system is a reliable and feature-packed vaping device that delivers a fantastic vaping experience. With its sleek design, advanced technology, and impressive flavour production, this pod system is a top choice for a compact and efficient device for vapers.
Caliburn X Specifications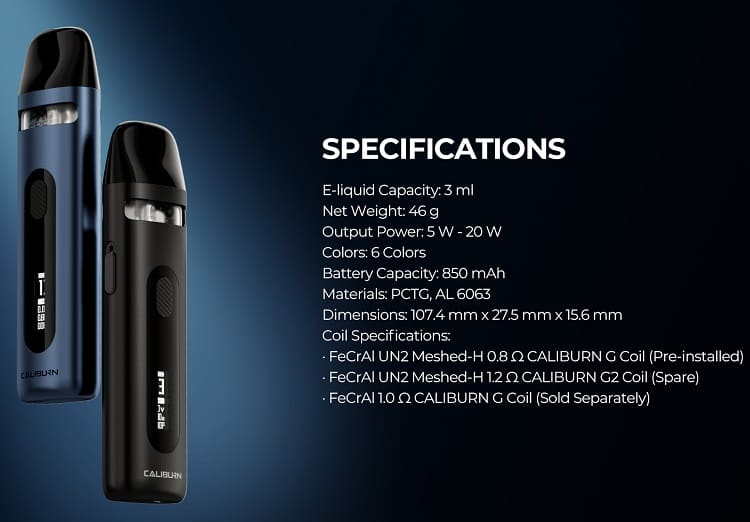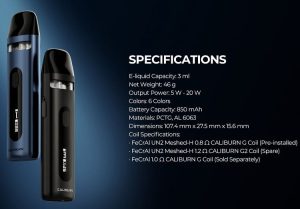 Caliburn X Details and Spare Parts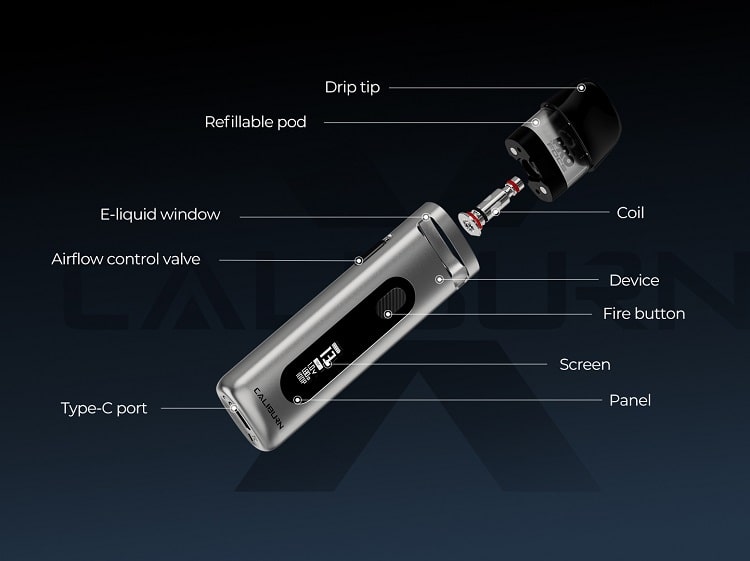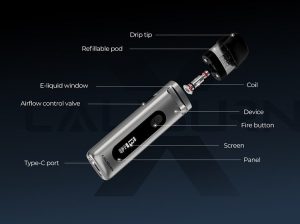 One Multi-Control Button
The button is well-designed and responsive, located on the body, and it allows you to easily power on and off the device, change the wattage, and activate the firing mechanism for vaping.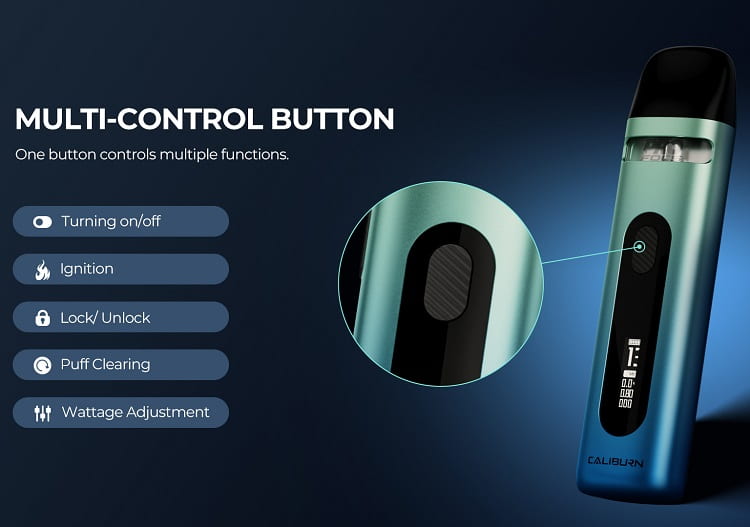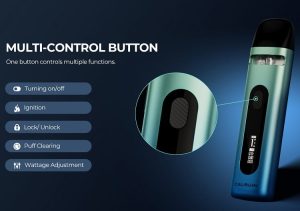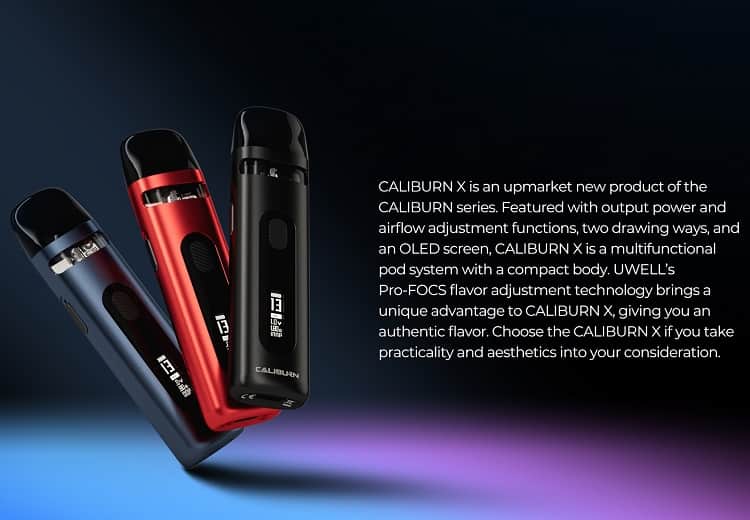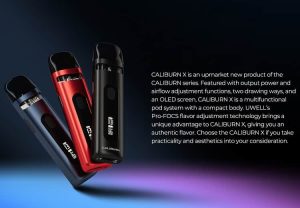 Intelligent Firing
Draw or press the fire button to vape. The button firing can start and stop the vaping process immediately and precisely.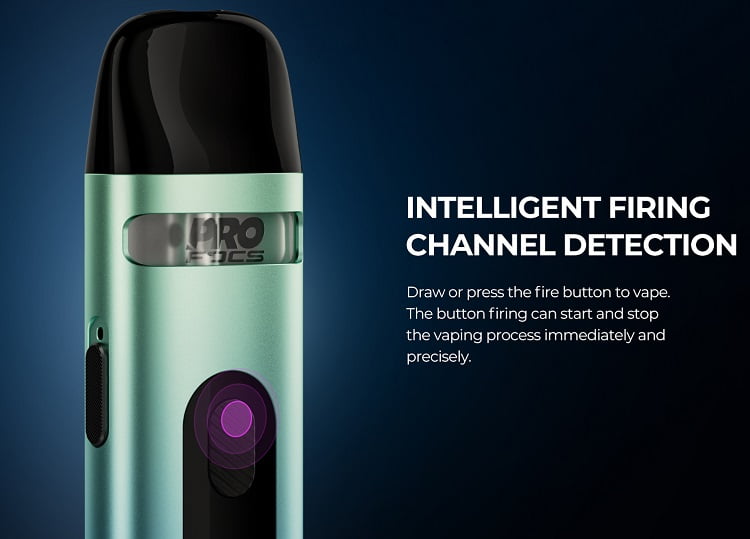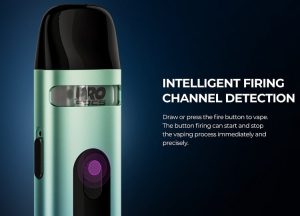 Light and Durable
Stamping forming of the aluminium alloy makes the device durable and smooth, giving you a comfortable grip.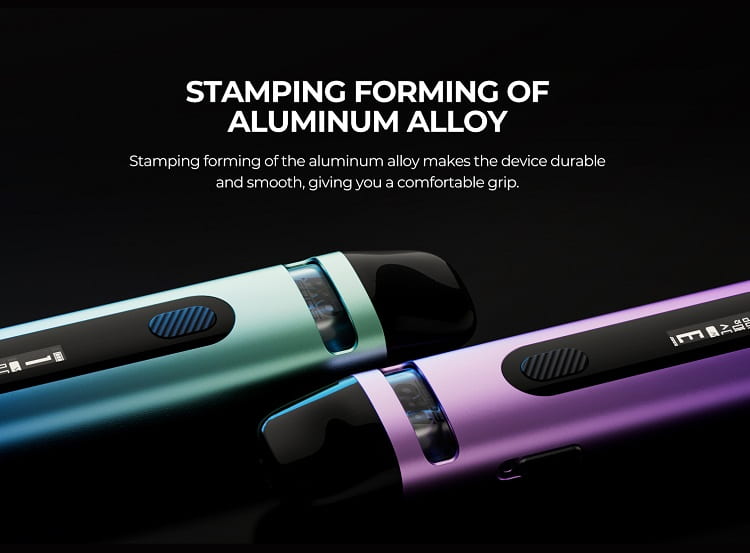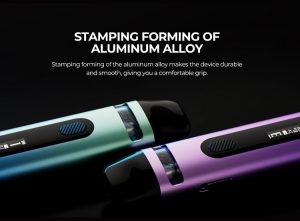 Caliburn X Display
The OLED screen on the device displays battery life, output power, voltage, coil resistance, and puffs. The visualization of data and operation is practical and user-friendly.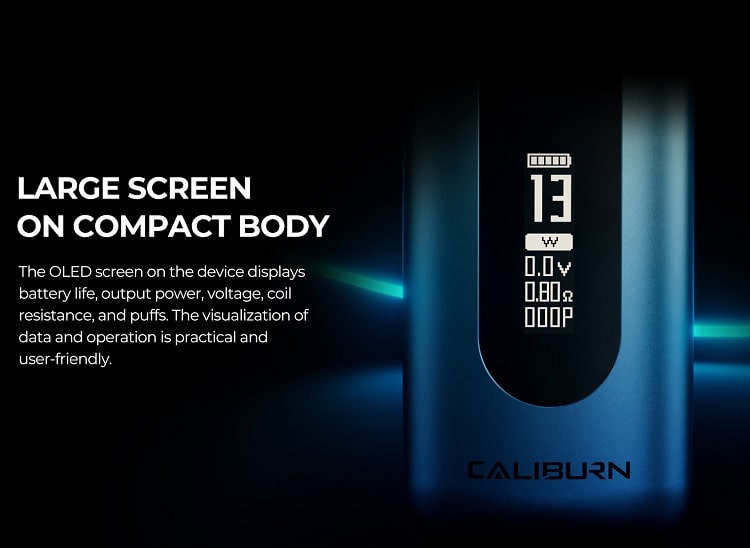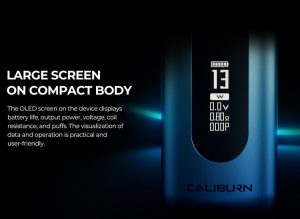 Airflow Adjustment
The device's outer case airflow adjustment valve is convenient for vapers to control airflow. There is no need to remove the pod to operate.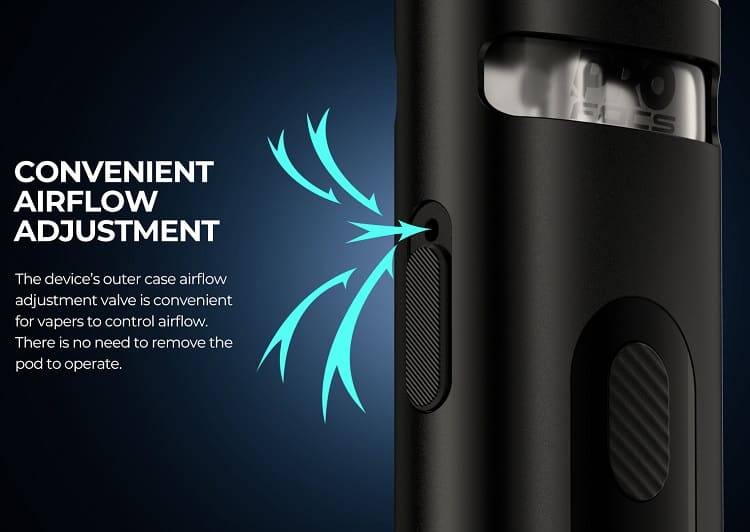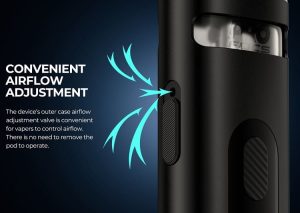 Caliburn G Series Coils
Caliburn X is compatible with CALIBURN G series coils. Multiple coils combine well with the adjustable strong power, providing a rich vaping experience.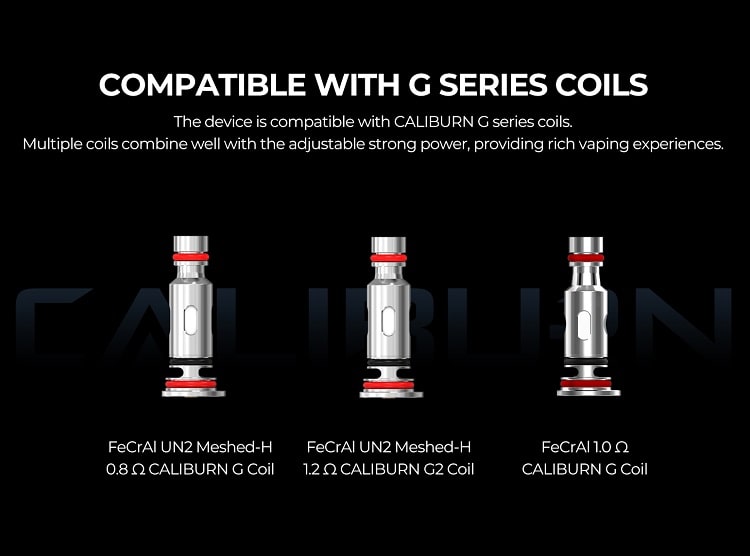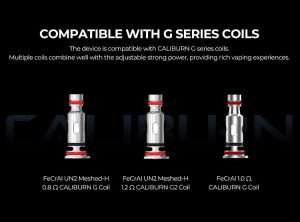 Battery 
A large 850 mAh battery and a 3 ml e-liquid capacity will provide you with more than one day's vaping time. You do not need to worry about frequent charging and refilling.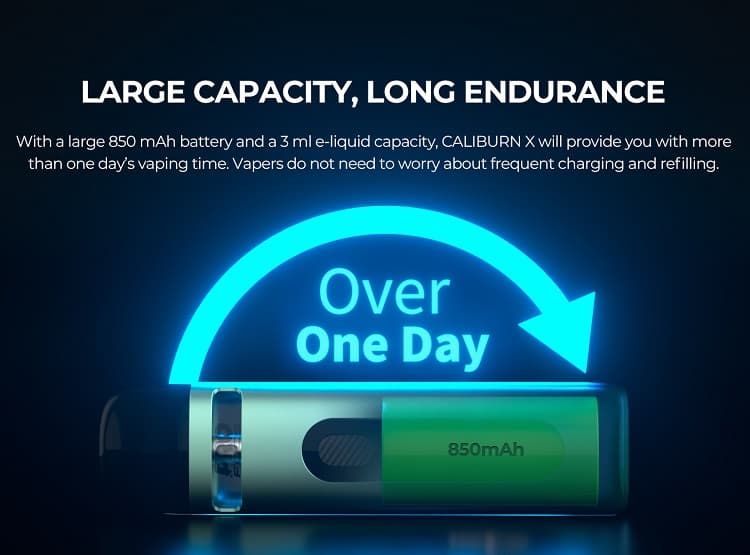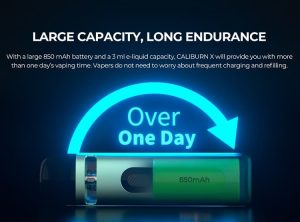 Charging
The Caliburn X comes with a Type-C charging cable. It adopts 5V/2A fast charging, which is convenient and time-saving.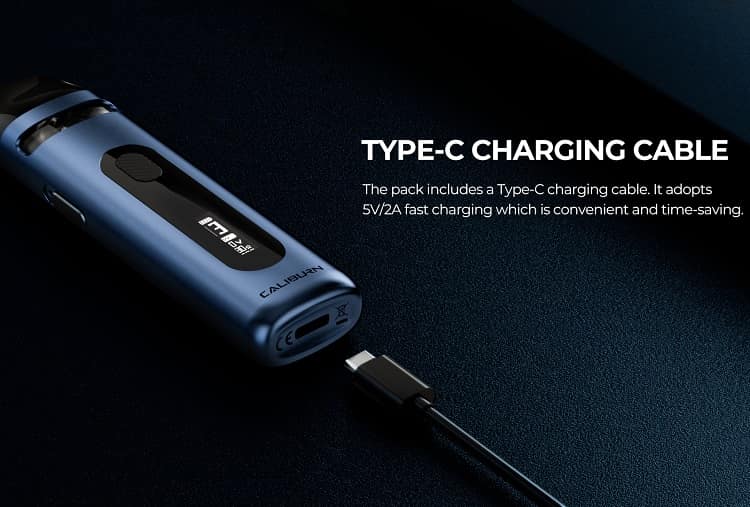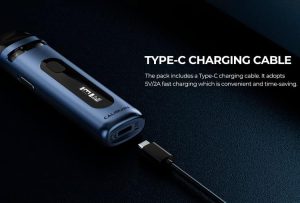 Box Contains
Caliburn X Battery
Caliburn X Empty Cartridge
1x 0.8Ω meshed coil
1x 1.2Ω G2 coil
USB-C Cable
User Manual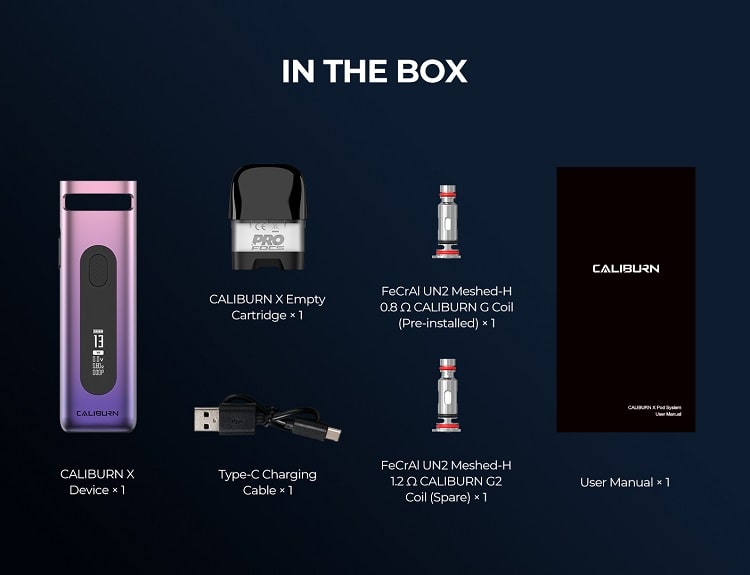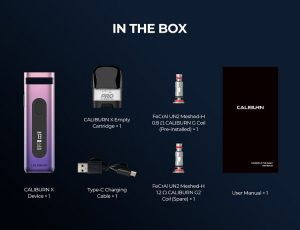 | | |
| --- | --- |
| Brand | UWELL |
| Colour | Ink Blue, Lilac Purple, Matte Black, Moonlight Silver, Ribbon Red |
| Vaping Style | Mouth to Lung (MTL) |