Advanced, E-cigarettes
Vaporesso Target PM80 Pod Mod

Vaporesso Target PM80 kit is a small pocket-friendly vape kit with power up to 80W, a large colour display and a built-in battery with a capacity 2000mAh. PM80 also comes with Axon chip, which provides instant firepower as well as many safety features. Comfortable and large buttons incorporate both firing and setting up the power, makes the pod easy to operate. The pod has 2ml capacity and is suited to GTX Coils. However, you can get 4ml spare pods if needed. The kit is best as a DL device, with a promise of flavourful rich vape experience but can be used as MTL device with 50/50 e-liquids. Pocket-friendly, large battery, the sleek look and a great price. You will be struggling to find any reason why you shouldn't buy Vaporesso Target PM80.
| | |
| --- | --- |
| Manufacturer | Vaporesso |
| Battery | 2000mAh, Built-in |
| Dimensions | 102 x 33.4 x 24.80 mm |
| Tank Size | 2ml (4ml Spare pod – optional) |
| Wattage | 5-80W |
| Charging | Micro USB |
| Coils | Vaporesso GTX Coils |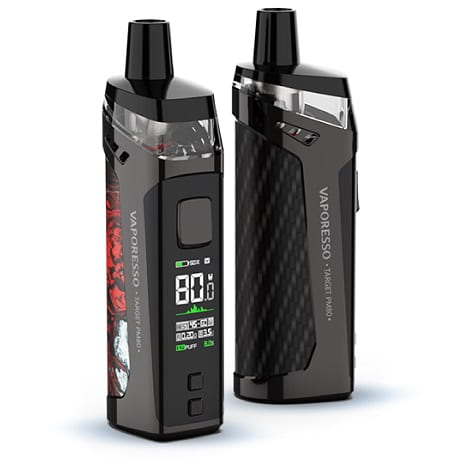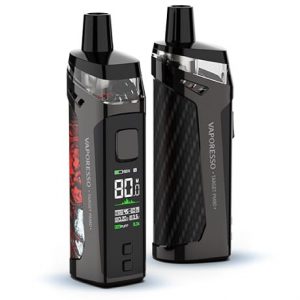 Vaporesso PM80 Pod Kit
The durable and hardy Vaporesso Target PM80 Kit is a powerful yet compact vape device, geared towards more experienced users. The Target PM80 combines intelligent design with ease of use, making it effortless for you to change your coils and refill the PODs. Its sophisticated 0.96" TFT screen displays the device's charge, as well as other current status information. As a pod kit, the Target PM80 Kit is going to be ideal for both mouth-to-lung (MTL) vaping as well as direct lung (DL) vape device. The affordable price tag makes this vape device an excellent option for those looking for a more customized experience, without breaking the bank.
PM80 Pod Mod Dimensions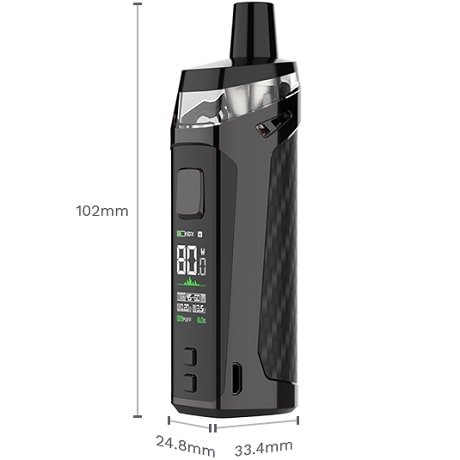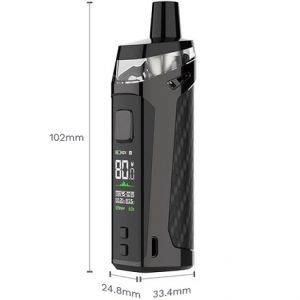 Vaporesso's Target PM80 Kit comes with a powerful, built-in 2000m Ah battery with a charging current of 2A micro via Micro USB. This battery gives the Target PM80 a maximum wattage of 80W, in 0.5 increments. As well as that, the Target PM80 comes with two spare pods with a cartridge capacity of 2ml. However, you can also get replacement pods with 4ml e-liquid capacity. Target PM80 is straightforward to use as it's button-operated. Not only is this vape device easy to use, but it's also beautiful. You can buy the Target PM80 in several bold, eye-catching designs. The fully assembled Target PM80 is roughly 102mm tall and 33.4mm wide, which makes it a tiny but powerful device. The shape is also fantastic, making it very comfortable to hold and handle.
Target PM80 in detail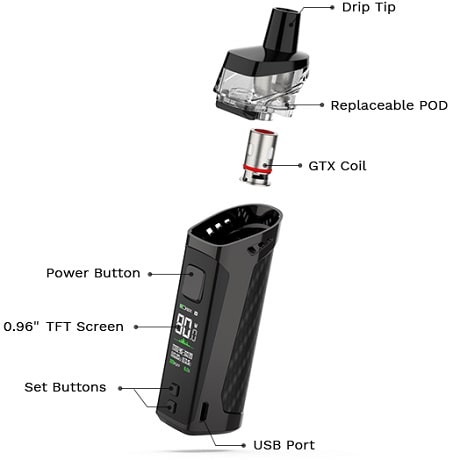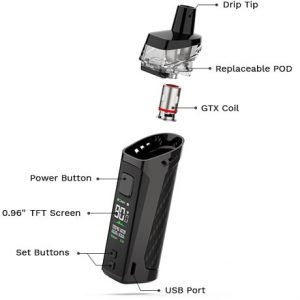 Both the firing and operational buttons on the Target PM80 are large, comfortable and effortless to use. You can also use the buttons to cycle through the Target PM80's menu, where you can select the mode you want to use. You can choose between wattage mode, voltage mode, smart wattage mode, reset your puff counter, and also change the colour of the display. The Target PM80 also has Axon chipset, which produces a very rapid-fire at only 00.01s. And of course, it's safe to use.
Vaporesso GTX Mesh Coils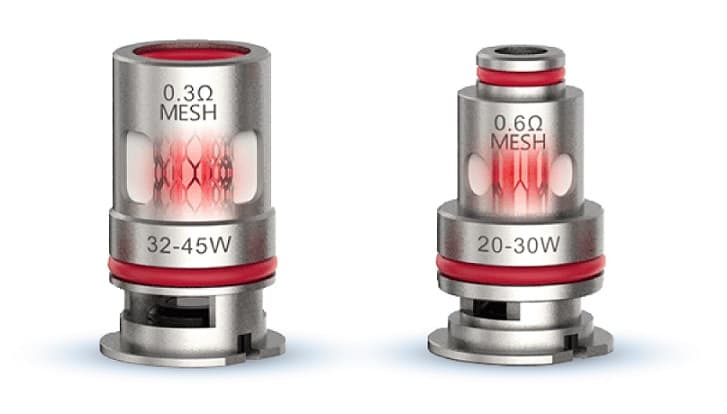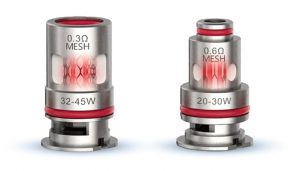 Vaporesso Target PM80 comes with a set of two GTX coils– a Vaporesso GTX 0.2 Ohm Mesh Coil (45-60W), and a second Vaporesso GTX Mesh Coil (32-45W). Taking these coils in and out of the Target PM80 is easy and quick. All you need to do is line up the coil with the bottom of the pod and press it into place. The Target PM80's pods have strong magnets at the base, which secure the pod in the bay with no movement whatsoever.


What's in the box?
The Vaporesso Target PM80 Kit comes with a range of great features and accessories in the box, which significantly enhances the user experience. In addition to a USB charging cable, two spare pods and warranty card, you also receive a small set of silicone airflow plugs. This lets you adjust the Target PM80 Kit's airflow, making it easy to customize your vape experience to your exact specifications and preferences.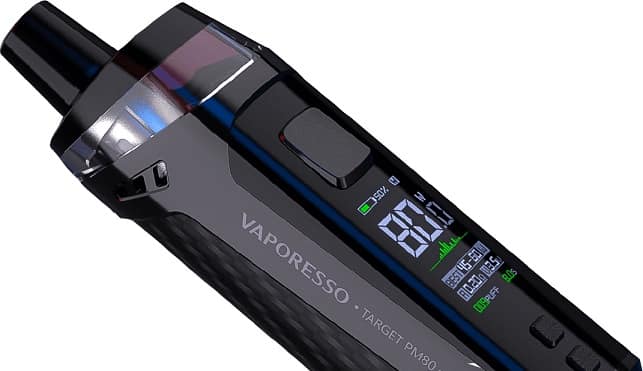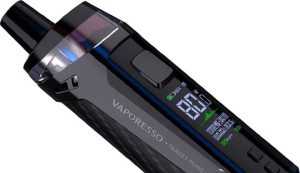 You will be very impressed with the Target PM80 Kit. The vape device feels natural and sturdy in hand, and vaping with the plastic mouthpiece is very comfortable. Vaporesso PM80 kit is a pocket-friendly pod mod with a large battery and a great price. You will be struggling to find any reason why you shouldn't buy Vaporesso Target PM80.


Target PM80 Battery
2x PM80 pod tank 2ml
1x GTX 0.2Ω Mesh Coil
1x GTX 0.3Ω Mesh Coil
Micro USB Cable
Quick Start Guide
| | |
| --- | --- |
| Brand | Vaporesso |
| Colour | Black, Brown, Silver |
| Vaping Style | Direct Lung (DL), Mouth to Lung (MTL) |