60ml, By Brand, By Size, E-liquids, Fruit, WitchCraft
WitchCraft – Arcane – 60ml Vape Juice
Product Points: 15 Points

Arcane by Witchcraft is a cooling combination of sweet and juicy grape, magical and mysterious fruits, which is kept cool by menthol. Perfect Grape and Fruit lolly made to perfection by a touch of magic!
Here is a deal not to be missed! Buy two Witchcraft e-liquids, presented in a magic gift box, and get yourself a sweet bargain.
| | |
| --- | --- |
| Manufacturer | WitchCraft |
| Flavour | Grapes, Ice, Lollies |
| VG/PG Ratio | 70/30 |
| Nicotine strength | 0 mg |
| Bottle size | 60ml (50ml of e-liquid) |
Quantity
1
2
Price

€

14.90

€

14.90

€

11.50

€

14.90

WITCHCRAFT – Grimoire of Potions
Witchcraft, the UK premium e-liquid started in 2013. Witchcraft company is a maker of signature modern potions and elixirs in a form of spellbinding e-liquids. It took meticulous hard work and a lot of research in creating a line of magic e-liquids to suit both novices as well as most experienced vapers, whether enjoying simple or more complex flavours. Witchcraft is always evolving to keep up with current trends and creating flavours to stop your interest and your pallet from boredom. All juices produced are ready to vape with 0mg nicotine.
All Witchcraft juices are created from only the finest ingredients and free from diketone and tested for diacetyl, acetyl propionyl, acetoin and other harmful substance. This way, you can be sure you are getting not only tasteful and quality vape juice but also one that is safe.
Arcane 60ml e-liquid bottle
Arcane 60ml e-liquid by Witchcraft is a perfect Grape and Fruit lolly made to perfection by a touch of magic! Arcane e-liquid comes in a unique 60ml shortfill bottle with a 70/30 VG/PG ratio and 0mg nicotine strength. No worries, Witchcraft e-juice bottle comes with free nicotine shot!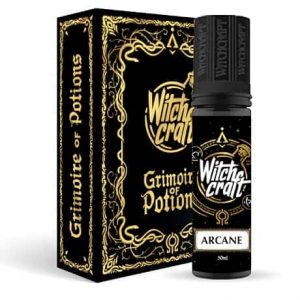 How to use Arcane e-liquid by Witchcraft with 0mg nicotine strength?
STEP 1


Open Witchcraft bottle
Press the cap down &
unscrew completely.
STEP 2
Pour nicotine booster
to the level of your
preferred strength.
STEP 3


Shake for 1 minute


Wait for 5 minutes before using.
For the best results wait
24 hours before use.
Enjoy the experience!