60ml, Bases & Flavors, E-liquids, Fruit, Go Bears, Menthol, Shake&Vape, Shortfill
XXX Exxxotic – GoBears PORNSERIES
Product Points: 16 Points

Exxxotic 50ml shortfill e-liquid by GoBears PORNSERIES. Exxxotic is an exotic mix of juicy mango, guava, and pineapple with a light cooling kick. Fantastic, smooth and intense fruity e-juice with balanced mint undertones.
| | |
| --- | --- |
| Manufacturer | GoBears |
| Flavour | Mango, Guava, Pineapple, Koolada (low mint) |
| VG/PG Ratio | 70/30 |
| Nicotine strength | 0 mg |
| Bottle size | 60ml (50ml of e-liquid) |
XXX Exxxotic– GoBears PORNSERIES  50ml Shake N' Vape e-liquid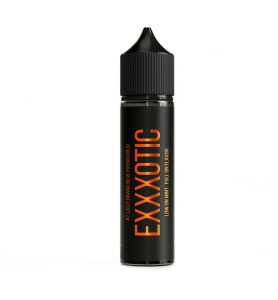 E-liquid shortfills by GoBears PORNSERIES
XXX Deepblow – Blueberry, Grape, Herbal Candy, Koolada
XXX Orangasm – Mango, Orange, Strawberry, Koolada
XXX Grapple – Grape, Apple, Koolada
XXX Redtube -Apple, Strawberry, Boysenberry
XXX G-Point – Guava, Jackfruit, Orange, Passion Fruit
XXX Squeeze – Lychee, Coconut, Mango, Pineapple, Papaya
XXX Exxxotic – Mango, Guava, Pineapple, Koolada
How to use shortfill e-liquids?
STEP 1


Open the bottle
Press the cap down &
unscrew completely.
STEP 2
Pour nicotine booster
to the level of your
preferred strength.
STEP 3

Shake for 1 minute


Wait for 5 minutes before using.
For the best results wait
24 hours before use.
Enjoy the experience!
How much nicotine should you add?