Aspire PockeX Kit Review
Aspire PockeX (also called Pocket X) is a compact all-in-one e-cigarette kit with only one-button-operation and easily replaceable spare parts. It's worldwide known starter vape pen kit and one of the most sought after in Ireland to this very day. Check out the review of why Aspire PockeX is still so popular in 2019.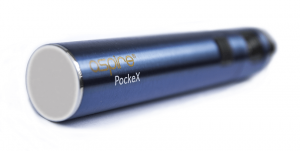 Aspire PockeX Popularity
Vaping market is booming with a vast amount of devices tailored towards new beginners that are trying to quit smoking with the help of e-cigarettes. The most convenient and comfortable type of devices are Vaping pens or also know as starter kits. Vaping pens are all-in-one (AIO) devices that don't require complex ways or tedious work to get you up and to run. I want to talk about one such starter kit called PockeX.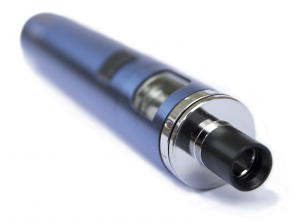 E-cigarette Aspire PockeX has been manufactured in various colours, it has easily replaceable spare parts, and it was put out on the market a few years back and holds its steady place as a choice of first vape pen to this very day. Aspire has been known for its high-quality products but yet affordable prices in the crowded market, which pumps out new, more advanced material on the market every single day. It is a fantastic achievement to see Aspire PockeX still hold its popularity.
Spare Parts
The PockeX is a premier pocket vaping device. Supporting a new sub-ohm PockeX U-tech coil design sitting on top of 1500mah battery. Coils with a focus for flavour chasers and for those who prefer a medium airflow vape and mouth to lung (MTL) style of vaping, which mimics the way you will smoke a real cigarette. It is compact in size and a must-have for any person who needs a discrete, portable, and rich flavour producing an e-cigarette device.

Unlike its other counterparts, you can actually use various spare parts. For instance, you can separate the replacement top sleeve glass tube (tank) from its retaining base – battery. The top cap which sits on the top of the sleeve is also replaceable as well as the drip tips. This is a very convenient feature as it makes it easier for cleaning and maintenance purposes. Or if you have dropped the PockeX which means instead of replacing the whole device, you can save money by just buying the spare part that has worn or broken for a fraction of price. For example, the replacement top cap will cost you 5euro, and the spare glass sleeve tube costs 4 euro.
PockeX U-tech Coils
PockeX e-cigarette uses two types of coils. The first one is called PockeX U-tech with a resistance of 0.6ohm 316L stainless steel. These coils are suitable for looser mouth to lung draw and provide both vapour and flavour production. The second type of coil has a resistance of 1.2-ohm kanthal, which will offer a tighter draw and is more suited to higher nicotine e-liquids. Your clever PockeX automatically adjusts its wattage to the coil used within its unit.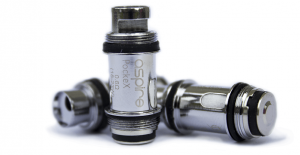 Coils are easy to replace, which you should do every two or three weeks depends on usage and e-liquid. I have been able to use the same coil for anything between 10 days to 3 weeks. Simple and less sweet e-juices provided longer coil life for me. If you need to replace it, all you need to do is unscrew the top cap, unscrew the coil and fit a new one and you are good to go again. Both types of coils are easily obtainable in various vape outlets so not difficult to find a replacement. The coils are suitable for 50vg 50pg e-liquids. In other words, the 10ml e-liquids such as Liqua, Aramax or Hale will do the job correctly.
Tank, leaking and re-filling
The PockeX tank has 2 ml e-liquid capacity, or it can be extended by a spare bulb glass to 3.5ml, which for is more than enough for mouth to lung style vaping. Using 1.2-ohm coil, I can go without re-filling the tank all day when I'm at work. The tank has two window sections so you can see how much of liquid is left in your vape pen and when it's time to top up again. It also has a max fill line, so you don't overfill your tank, and it's very easy to fill up your PockeX tank. Just unscrew the top cap to expose the filling port and fill to the max line and finally screws the top cap back on. If you go beyond the 2ml capacity and try to put the top cap back, it will cause flooding and a slight mess, so be careful when re-filling.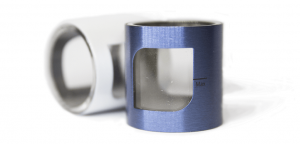 Aspire claims that the PockeX tank is leak-proof and I can also confirm it. I have had it laying on my car seat during charging periods, in my handbag and turned upside down and hasn't encountered any spillage at all. It is very nice not to worry about having to keep your device in a certain way to prevent leaking.
Battery and Charging
Battery capacity is listed at 1500mah. To fully charge the battery takes about 4 hours. With constant use, you will need to recharge in just over two hours. However, I use it for work with high nicotine content juices and battery lasts me for a full day. Charging is done by standard micro USB passthrough port located on the bottom of the device with indicator light. Basically, red means charging, green means charged. Simple as that.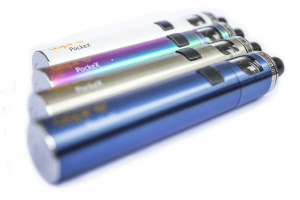 Operation of this e-cigarette is straightforward, as it meant to be for beginners. The e-cigarette has only one button, which you can do 2 things with it. Fire the e-cig and lock the device. To turn your device on or off, you just have press the button 5 times. Button light indicates battery life – the light is blue when the charge is above 30%, and it will turn pink when the battery is below 30%. If you see the pink colour, you should start looking for a USB charger.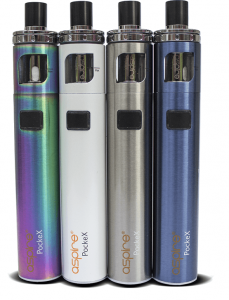 Conclusion
E-cigarette PockeX is a really great device, and I can say that the Aspire did an excellent job. The vaping pen comes in various colours to suit individual taste, very small and so simple to use. Just pop in your coil, fill up the tank, and you are good to go. It is perfect for someone starting off or for someone who doesn't want to carry a big mod all day. With an affordable price tag, it makes it an excellent budget-friendly option. I will definitely recommend PockeX to a friend, and I will definitely keep my PockeX for another few more months.