60ml, Bases & Flavors, E-liquids, Fruit, Liqua, Liqua Mix&Go, Shake&Vape, Shortfill
Berry Mix – LIQUA Mix&Go
Product Points: 14 Points

Liqua Berry Mix is a combination of fresh strawberries, juicy cherries, tart grapes, and tangy citrus combine in Berry Mix flavour.
Berry Mix Liqua e-liquid contains 75% of VG, which guarantees massive clouds and smoother hits. Liqua Mix&Go is a perfect base for direct lung vaping (DL) and sub-ohm tanks. Liqua liquid doesn't contain any nicotine, but it has enough space to add nicotine shots, which gives you the ability to get desired nicotine strength.
| | |
| --- | --- |
| Manufacturer | Ritchy |
| Flavour | Strawberry, Cherry, Grapes, Citrus |
| VG/PG Ratio | 75/25 |
| Nicotine strength | 0 mg |
| Bottle size | 70ml (50ml of e-liquid) |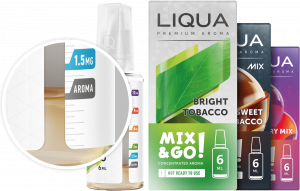 Ritchy is back with a new liquid called Liqua Berry Mix MIX&GO! What is it all about? Basically, you no longer need to know how much flavour or base you have to use. They mixed it for you in a precisely measured amount with zero mg/ml nicotine. All you need to do is pour in the nicotine booster, shake it well and there you have your perfect e-juice. What is the difference between shortfill and regular e-liquid? It's smart and convenient! Liqua Berry Mix Mix&Go allows you to invest less to gain more vaping pleasure on the go. Make your vape experience more personal and spend less to get more than before.
All Liqua e-liquids are manufactured in a strictly controlled laboratory with the best ingredients and, of course, comply with all standards and international certifications.
LIQUA BERRY MIX
Liqua E Liquids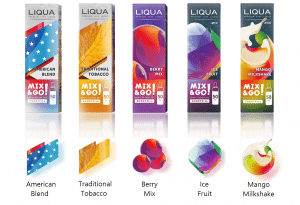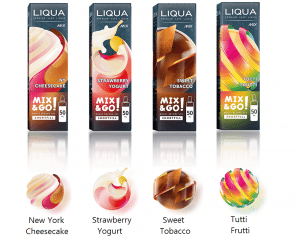 HOW TO USE
STEP 1

– Open the bottle
Press the cap down &
unscrew completely. Place
the cap on the spout &
remove under 45° angle.
STEP 2

– 

 Add the booster
Range of desired strength is
marked on the bottle.
Pour nicotine booster to the level
of your preferred strength.

STEP 3 

–  Shake for 1 minute
Wait for 5 minutes before using.
For the best results wait
24 hours before use.
Enjoy the experience!