E-cigarettes, Expert, MOD
Eleaf iStick Pico S Kit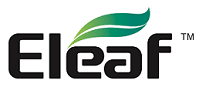 Eleaf iStick Pico S with ELLO VATE sub-ohm tank is designed to bring attention. And with its power up to 100w, makes it an extreme e-cigarette.
Manufacturer: Eleaf
Battery: 1x 18650 or 21700 Battery
Thread:  510, spring-loaded contact
Dimensions:   81 mm x 52.5 mm x 28.5 mm
Output Wattage : 1W – 100W
Modes: VW/Bypass/TC-(Ni, Ti, SS)/TCR
Variable temperature: 100°C-315°C
Tank: 2 ml, ELLO VATE tank
Coil: Heating Coil HW-Net and HW-Mutilehole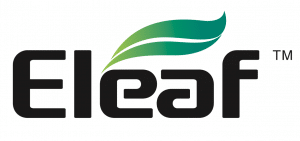 The Pico S 100W kit comes with the fashionable style and beautiful colours. Inspired by a sports car, Eleaf new iStick Pico S with ELLO VATE is designed to be the most visually appealing e-cigarette, having a bare battery tube with the design of corroded texture, a resin 810 drip tip and decorative 7-colour LEDs. In addition to its dynamic look, the iStick Pico S kit also utilizes new HW-Net and HW-Multihole coils to present an unprecedented vaping experience. It has a power mode that is adjustable to 100W, temperature modes supporting nickel, titanium and stainless steel coils. Using single 21700 or 18650 battery and a high drain Avatar AVB 21700 battery (4000mAh) is available for your option.
Eleaf iStick PICO S Kit
Dimensions
Accepting Single 21700 and 18650 Battery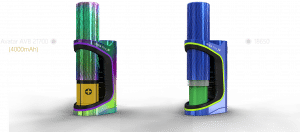 Pico S Firing up to 100 watts.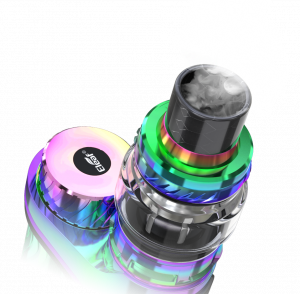 Compatibility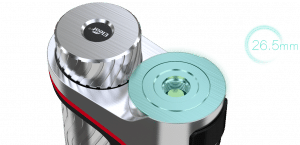 The ELLO VATE Tank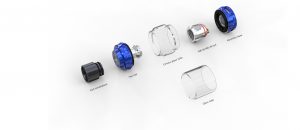 Packing:
1x Eleaf iStick Pico S Mod
1x Eleaf Ello VATE 2.0ml
1x AVB 21700 4000mAh battery
1x heating head HW-M 0,15Ω
1x heating head HW-N 0.2Ω
1x battery adapter 18650
1x QC USB cable
Spare parts