Advanced, Brands, By Brand, By Type, E-cigarettes, Innokin, Innokin, MOD, Mod / Pod Mod
Innokin Kroma-R 80W kit with Zlide Tank

Innokin Kroma-R kit with Zlide tank is an excellent kit that provides you with trusted Zenith coils and new plex3d coils. It has a massive, easy to read display with an integrated fire button. Kroma-R MOD is powered by a single 18650 battery and reaches up to 80w power. All its attributes make the Kroma-R kit a perfect MTL kit.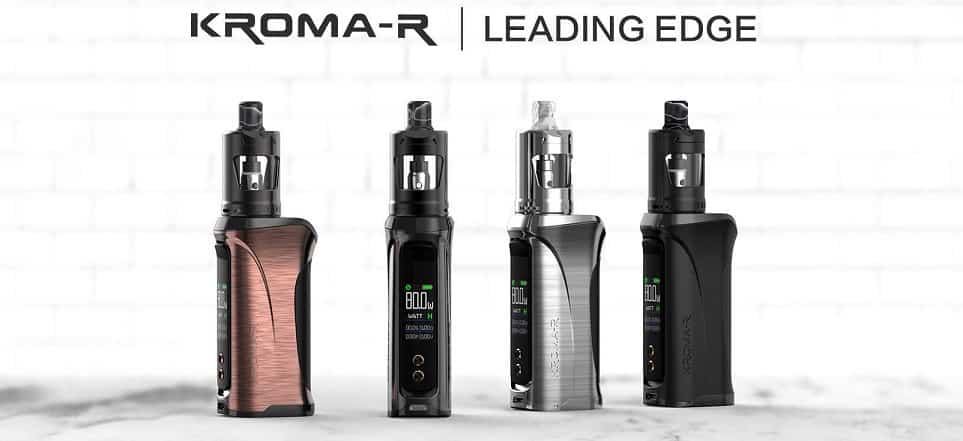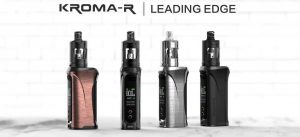 Innokin Korma-R 80W Kit
The Innokin Kroma-R 80W Mod with Zlide tank kit is a compact e-cigarette with a stylish and ergonomic design, made out of high quality and durable materials. In other words, the Kroma-R kit feels and is premium in every sense. Innokin Kroma R mod is powered by a single replaceable 18650 battery cell.
Kroma-R 80W Mod Kit Dimensions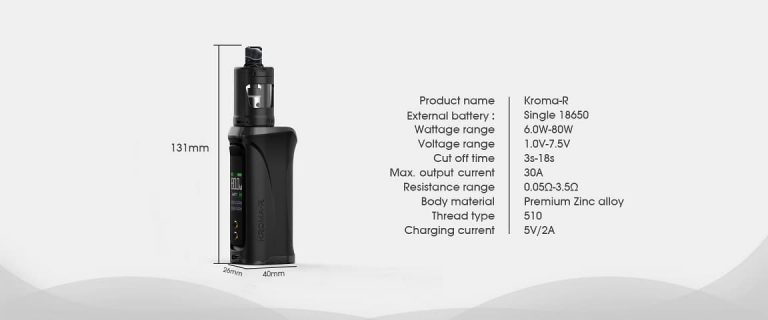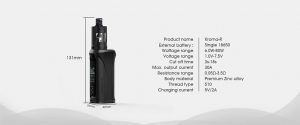 Replaceable 18650 Battery
Replacement of the battery is done by simply pushing up the lock to open the spring door on the bottom of the device and replace the battery. With this kit, you can vape between 6-80W with a voltage output of 1-7.5V and also use soft, normal and boost modes feature for a personalised vaping experience. It also has a 2A micro USB quick charge facility with an integrated safety protection feature.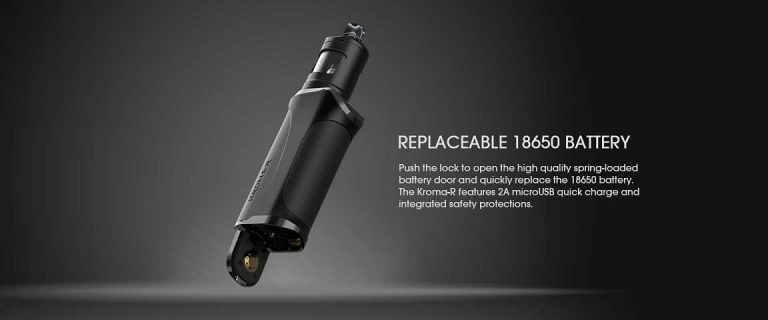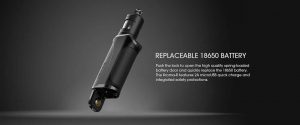 Ultra-fast response time
The mod has a fast 0.003 seconds fire time thanks to its chipset. The fire button is integrated into a bright, easy to read OLED display. It shows every important piece of information that you need to know as a user. Information like battery charge, wattage, voltage, voltage out, wattage lock, puff count, and coil resistance are all included.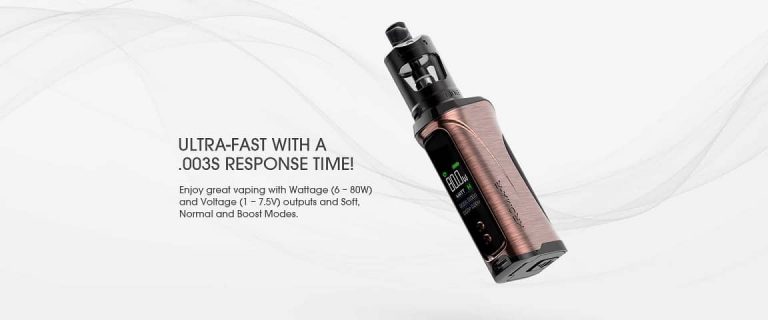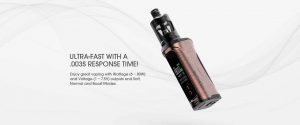 Bright coloured OLED display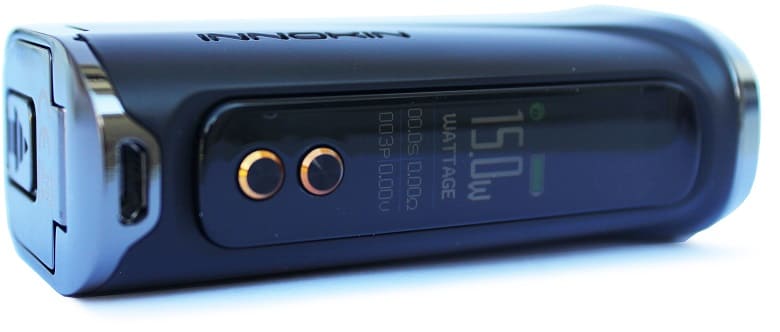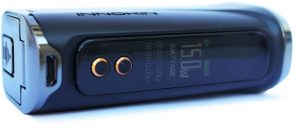 The touch screen can easily be operated, and new users can easily find their way around this device. A rundown of the primary mode of operation is as follows:
· Three clicks of the firing bar to turn on and off
· Keep up or down pressed for two seconds to activate wattage or voltage adjustment
· Fire+up shows battery stats (remaining voltage, puff counter) along with coil resistance
· Fire+down locks wattage adjustments (you can still fire the mod)
· Up+down to enter the menu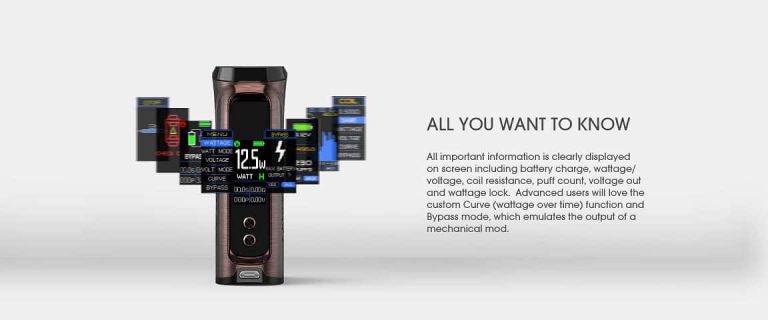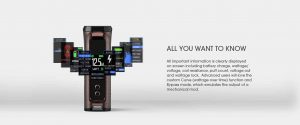 Zlide Tank
The mod comes as a kit with its legendary Zlide tank, which is a fantastic tank for MTL vaping. Zlide tank is featuring a slide-to-fill system, which makes filling the tank easier whilst preventing leaking. Moreover, the Zlide tank has adjustable airflow, which is on the bottom of the tank and allows you to fine-tune your tank to your personal preference. A significant advantage of the Zlide tank is that, just like the Zenith tank, it can also be used for restrictive direct-lung vaping. Zlide tank using the full line of the Zcoil (Zenith Coils), including the new Plexus and Plex3D mesh coils, therefore provides you with many options to enjoy your vape.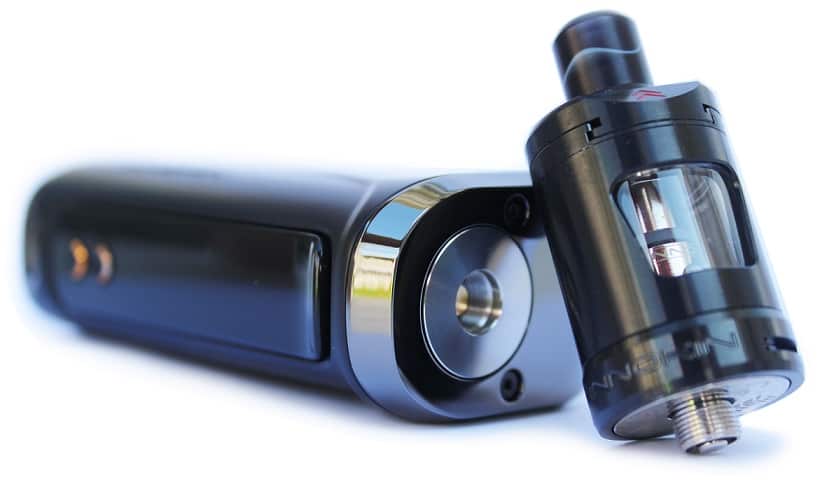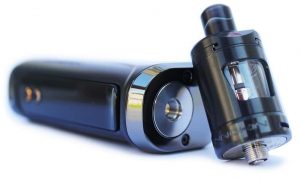 Packing:
Innokin Kroma-R 80W MOD
Zlide Tank 2ml
1x Zenith Coil 1.2Ω
1x Zenith Coil 0.8Ω
Micro USB Cable
1x Spare O-ring Set
1x Quick Start Guide
| | |
| --- | --- |
| Colour | Black, Bronze, Stainless Steel |
| Brand | Innokin |
| Vaping Style | Mouth to Lung (MTL) |