E-cigarettes, Starter Kits
Smok Nord Pod System

Smok Nord Pod system uses a single button to operate with slightly bigger dimensions and a similar design to Novo. Nord offers a built-in battery capacity of 1100mAh, which is enormous in terms of pod devices. It also contains two unique replacement Nord coils. 0.6-ohm mesh for an airy draw and massive vapour production and 1.4 ohms regular for a more restricted draw and MTL experience.
Smoktech is small in size and comfortably fits in the palm of your hand. A single button operates the pod system as well as provides a status of its battery life. On the side, there is a window showing how much e-liquid is left in the pod as well. All these features convert Nord Smok Pod into the small, convenient yet powerful vaping pod system.
| | |
| --- | --- |
| Manufacturer | Smoktech |
| Dimensions | 94mm x 30mm x 18.8mm |
| Output wattage | 10W-15W |
| Weight | 80g |
| Battery | 1100mAh |
| Charging | Micro USB port |
| Coils & Pods | Smok Nord Coil  & Replacement Nord Pods |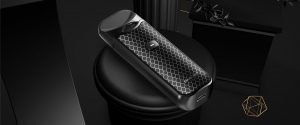 Dimensions and Specifications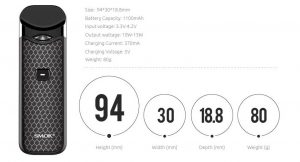 Design
Nord has a beautiful and sleek cobra design on its body. It's button triggered pod system with 1100 mAh battery capacity, which puts Nord amongst the largest battery capacity pod systems on the market. This pod has style, longevity, and it's built to last.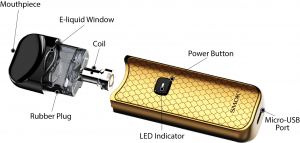 Nord Battery
Smok Nord is slightly chunkier than some of its counterparts. The reason being is that it utilises a bigger and more powerful battery. The 1100mAh capacity allows for a longer time vaping without the need to recharge as often as many other pod systems. Also charging is done via USB port with the help of USB cable, and it takes roughly 2 hours to charge fully.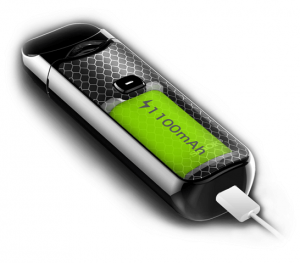 Pod, Improved Mouthpiece and Heating Heads
Top pod part of the system is simple to use and to look after. Nord pod also allows you to change coils within the pod itself instead of replacing the whole cartridge each time. The starter kit contains two different heating heads. However, it can use various heating heads with different resistances suitable for MTL and DL style of vaping. The pod has the usual deck-built style mouthpiece but with far better lip curve which improves the vaping experience and is more helpful to vape on.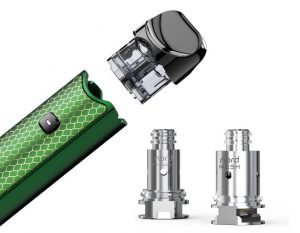 One Button Operation
Unlike other pods which are draw-activated, Smok Nord is button triggered, which means you need to press fast 5 times to turn on or off and use a long press to vape. It's similar to traditional starter kits and vape pen devices.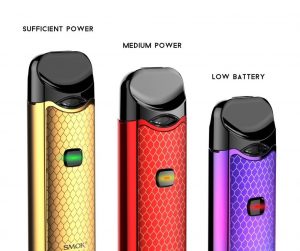 Intelligent battery life indicator
By pressing the single button twice on the pod, either of the three following colours will appear, alerting you to the battery status.
Red- 30 % full, orange- 30-70% full and green 70-100% full. It makes this to be a very convenient feature. Simple and clever.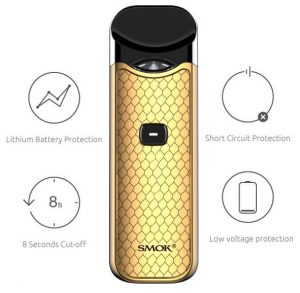 Multiple Protections
Smok Nord has a series of protections such as 8 seconds cut off, battery protection, short circuit protection and low voltage protection. By adding these features, it avoids common dangers associated with vaping devices.
How To Fill Smok Nord

Packing
1x Nord battery
1x replacement coil Mesh DL 0.6 ohm
1x replacement coil Coil MTL 1,4Ω
1x micro USB cable